Photo Gallery
The opening of the new Legal Year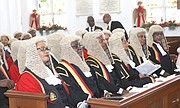 (BIS Photos/Patrick Hanna)
By NICO SCAVELLA
Tribune Staff Reporter
nscavella@tribunemedia.net
BAHAMAS Bar Association President Kahlil Parker has called on both Attorney General Carl Bethel and the Director of Public Prosecutions to immediately implement "substantive measures" to protect his members following reports of a prosecutor being stabbed in the head on Sunday night.
Mr Parker, in making his remarks during a ceremony to mark the opening of the 2019 legal year, said "the time for debate has passed" and "meaningful action is required" to ensure that local attorneys are provided the security they need to comfortably perform their duties.
Mr Bethel, in making his remarks during the special sitting, said as a general principle, his office takes "the question of the physical safety of all persons involved in the administration of justice with utmost seriousness, inclusive of all members of the judiciary and prosecutors".
"If there are any apparent deficiencies, one need only inform my office and we will immediately seek to assist in addressing any such issues," Mr Bethel added.
However, Mr Parker said while he commends Mr Bethel for his "timely remarks and acknowledgement of the gravity of this situation", more needs to be done.
Earlier this week, Assistant Commissioner of Police Clayton Fernander confirmed that Joel Seymour, a prosecutor in the Director of Public Prosecutions office, was stabbed "at night at an establishment". He said two men are in custody, having turned themselves in. He was careful not to provide a motive for the stabbing.
Mr Seymour has since been discharged from hospital and is in stable condition.
On Monday however, Director of Public Prosecutions Garvin Gaskin said while he did not want to preempt a police investigation into the matter, he could confirm that Mr Seymour's stabbing was connected with his role as a prosecutor. While local prosecutors have faced threats before, Mr Gaskin could not recall another time when one became a victim of bodily harm.
"Mr. Seymour suffered a vicious attack under circumstances that give us all cause for alarm," Mr Parker said yesterday. "While we remember those of us who discharge the solemn function as prosecutors before the Criminal Courts, who do their duty in the face of ever-present dangers, I must also lament the fact that we all as attorneys stand in the breach as a matter of course, and we all bear the burden of the results of litigation and other contentious matters.
"This assault on our brother has made manifest the fact that the time for debate has passed and that meaningful action is required. I commend the Attorney General for his timely remarks and acknowledgment of the gravity of this situation. I admonish both the Attorney General and the Director of Public Prosecutions to ensure that substantive measures are taken immediately to protect our members."
In 2014, former Bar Association President Elsworth Johnson, now the State Minister for Legal Affairs, said prosecutors should be allowed to carry firearms. At the time, Mr Johnson asserted that prosecutors have to deal with "the worst of the worst" in society and should be afforded adequate security.
Mr Johnson also noted at the time that most of the prosecution's staff were women, while most defendants were men.
The International Association of Prosecutors, established by the United Nations in 1995, described the minimum standards for the security and protection of public prosecutors and their families. The declaration calls for states to "take all steps to provide necessary protection, including engaging the police or security guards."
The IAP said: "An appropriate state authority should be given the responsibility to assess the security risk both to prosecutors generally and to specific prosecutors as well as their families and to keep all assessments under review at reasonable intervals or when circumstances change." It's not clear whether the Bahamas adheres to such standards.