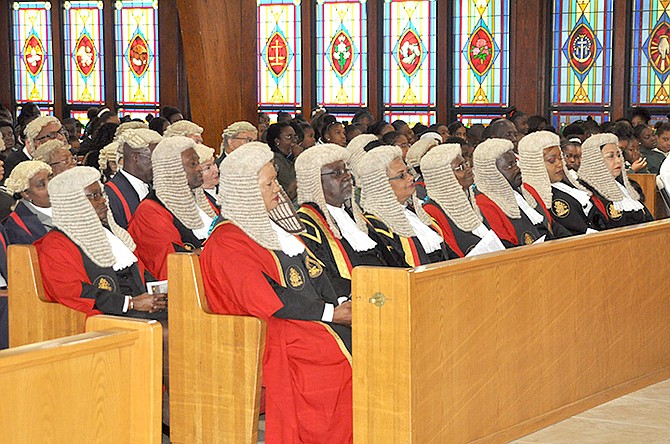 By DENISE MAYCOCK
Tribune Freeport Reporter
dmaycock@tribunemedia.net
AT the official opening of the legal year in Grand Bahama, Canon Norman Lightbourne highlighted many serious problems facing the country that seeks to diminish and threaten our way of life in The Bahamas.
In his sermon, Canon Lightbourne indicated that the breakdown of home and family life "is the greatest threat our nation faces today."
Some other major issues he pointed to were the high rate of unemployment, particularly in Grand Bahama, the serious gambling problem in the nation, greed and corruption, and the erosion of trust and confidence in the judicial system.
He added that the problem of illegal migration and immigration also threatens the stability of the country.
Attending the annual church service at the Pro-Cathedral at Christ the King Church on Friday were Attorney General Carl Bethel, Acting Chief Justice Vera Watkins, justices, magistrates, lawyers, and members of the judiciary. Students from various schools were also in attendance.
Canon Lightbourne said the country needs everyone more than ever before to collectively solve these pressing problems that exist in Bahamian society.
"These are really serious problems and issues we face, and we can bury our heads and pretend as if they do not exist, but sooner or later they would come to bite us," he warned.
The Anglican clergyman stressed that the greatest threat the nation faces is the disintegration and dissolving of family life.
"Until we are able to solve this problem, we could build as many rooms in Her Majesty's Prison until we are tired; we can budget billions and billions of dollars; we could hire thousands and thousands of police officers, but until we are able to deal with home and family life our efforts will be to no avail," he warned.
Canon Lightbourne emphasised that dysfunctional homes and family life leads to dysfunctional schools, workplaces, and churches.
He believes the nation needs to go back to the basics such as love, respect, and reverence for God to remedy these issues.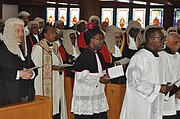 Turning his attention to the justice system, the priest noted that many people are losing faith and confidence in the country's judicial system because of the slow adjudication of cases and matters before the courts.
"The wheels of justice are turning slowly in our country that many persons are becoming so frustrated, angry and upset that they are willing to take the law in their own hands when we fail to respond in a timely manner to persons in search of justice," he said.

Referring to a speech made by Justice Hartman Longley, Canon Lightbourne said the judge indicated that the law must serve as an instrument for the protection and enforcement of rights and justice, not as an instrument for denial and delay of rights and justice.
He reminded justices, magistrates, and members of the Bar Association that they are gatekeepers of justice.
"You are guardians of fair-play and custodians to whom much is given, and much is expected. We need your help as non-lawyers; we need you to assist and help us so that we could feel better about justice in the land.
"You should do all in your power to help fix what I call a broken system so that justice could indeed be swift so that the regular person on the street who wishes to have their case heard that something is done to bring some closure. How do you think people feel going years and years waiting?" asked Canon Lightbourne.
He stressed that there are lots of smart people who know how to fix the system. He said the country needs men and women with the will power and courage, commitment and warrior spirit to put their lives on the line to address wrongdoing.
"So many are becoming lawyers today not because they love the law or have a thirst for justice, many are lawyers because they want to get rich quick," he added.
The clergyman said that something is fundamentally wrong with the system, adding that a chief justice is yet to be named.
"Something ain't right, something is wrong. What is the reason for the delay? The last one was delayed, and he got it and only lived weeks afterward. Something is not right."
"This isn't politics I am not talking; I am talking about justice. I am talking about every citizen of this country as a result of Majority Rule has the right to stand up and speak what is right from what is wrong. That is what I am doing here," he said.
Canon Lightbourne indicated that the judiciary is an essential branch of governance. He noted that justice delayed is justice denied.