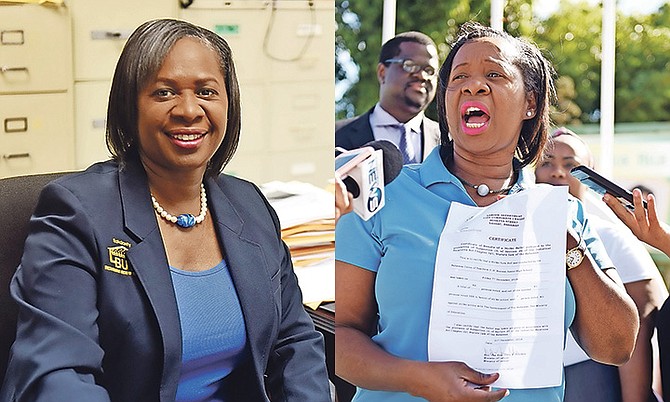 By Khrisna Russell
BELINDA Wilson, president of the Bahamas Union of Teachers is no stranger to controversy. A fearsome adversary across the negotiating table while at the same time an enigma within her own union having six times been suspended.
The most recent issue late last year happened when she and three other officials were suspended for two months because they allegedly breached a 2017 Supreme Court Order over nomination issues stemming from a 2016 union election.
But throughout the years and successive administrations, Wilson has continued to be arguably one of the most no-nonsense and prominent union heads to advocate for the rights of workers.
Just last week the union chief was mulling over whether there was to be industrial action long standing conditions at the CH Reeves Junior High School where mould and pest infestation has made it challenging for teachers to work there.
Recently she asked why she has remained unmoved and unshaken, a constant force to be reckoned with despite what seems to be a never ending push to have her unseated as president, she responded: "I will never give up. There are just far too many teachers depending on me."
Wilson says the drive to defend her colleagues is in her "belly" - encoded in her DNA from her days growing up at Ross Corner in the inner city.
The former Physical Education and English Language teacher is the ninth child of 11 born to Reverend Basil Johnson, a former Tribune employee in the sales and marketing department and Maria Johnson an 18-year shop steward with the Bahamas Hotel Catering and Allied Workers Union. Both were strong Christians.
Undoubtedly, this was the blueprint for Wilson's closeness to God and her outspokenness as a trade unionist.
She further credits Cynthia "Mother" Pratt for the direction her life took as it was the former Cabinet minister who ensured Wilson received a full scholarship to St Augustine's College in Raleigh North Carolina.
"I believe that my parents had a lot to do with the way that I am because my father, I'm talking about a prayer worrier," she recalled.
"So five o'clock in the morning daddy was awake and (he would) wake up everyone and that prayer is going to last for a whole hour. No matter where you were or what time you sneaked into the house make sure you were around for prayer because we had family prayer.
"My mommy, a strong woman, was a hotel worker actually, a cook. But she served during the time of (former unionist) Mr Thomas Bastian. My mom was the chief shop steward and the shop steward for the Bahamas Hotel Catering and Allied Workers Union for 18 consecutive years.
"So the drive that I have I believe comes from both of my parents, comes from my up bringing and being the 9th of 11 children, so you know you had to be tough to defend yourself."
Born into humble beginnings, Wilson said it hurts to see people mistreated and taken advantage of. This conviction has been her motivation and ties in to her philosophy of doing unto others as a person would want to be done unto them.
"It's in my belly. I have a passion to advocate for the small man or for the underdog," she said.
"That motivates me because whenever I see someone being mistreated (and) that doesn't only mean union members. Some times I am driving or in a public place and I see a child being cursed at by a parent, like it's something inside of me that cannot ignore that. Sometimes I'm driving and I see a group of guys that may be picking a fight or getting into an altercation with another guy or someone.
"Whatever is in me I don't even think of my safety first. I always think about like this, 'Hey please leave him alone, why are you bothering with him?'
"I believe that I was placed on this earth to advocate and to stand up for the rights of others."
Her belief in a higher calling has not left Wilson unscathed.
Last September, after an executive committee meeting, Wilson's sixth suspension became active.
Secretary General John Musgrove, whose membership was also suspended along with Treasurer Lorraine Knowles and trustee Mizpah Pintard-Munroe, confirmed it.
Mr Musgrove said they were all suspended for breach of the 2017 Supreme Court order that saw Mrs Wilson, Mrs Knowles, and Mrs Pintard-Munroe reinstated as candidates on nomination ballots before the union's elections in April that year.
The three women took the union and its executive committee to court over its decision to deny them the candidacy in elections slated for June 9, 2016.
They also appealed to the court for an order to be paid monies withheld by the union during their suspension, along with outstanding half pay. Benefits requested were inclusive of "loss salaries, stipend, and other emoluments".
However, in his order dated March 9, 2017, Justice Ian Winder granted a "very limited declaration" and "refused all other reliefs".
Mrs Wilson was returned as president following a landslide victory over her chief opponent Zane Lightbourne on April 7.
Pointing to these circumstances, she said: "My Christian values and principles and my belief in God is what keeps me.
"I was just at a place and a guy said 'Why don't you just quit because for what you've gone through if it was me I would quit? I would go and I would get a job in in a ministry or administration.'
"I told him I will never quit, because there are more with me than who is against me."
"Last year, approximately 1500 teachers voted for me and so if seven or eight executives thought to suspend me, 1500 teachers believe in me. So I have to stay the course if only for them, but I am not a quitter.
"There is nothing that I can say that I am fearful about. I believe that there is a higher calling for me but I will allow the Lord to lead me and guide me as to what is my future."
And the future is just what she's decided to focus on as far as union goals are concerned.
Wilson revealed she has her sights set on a salary increase and housing plan for teachers alongside a new multi-million dollar state of the art facility for her union.
"Our agreement ended on June 30, 2018, so we have a new agreement that we presented to the government already dated June 20, 2018. So we are expecting to begin negotiations on that soon.
"In addition we are asking for a 20 percent salary increase over a three year period.
"We also asking for the government and the ministry to work with the ministry on curriculum revision on revising the national high school diploma because we find that there are some amendments that are needed for the high school diploma. We are asking them to work along with us in ensuring that teachers are trained and that they get professional development and that this is ongoing. We have some untrained teachers we are asking for them to receive grants and scholarships.
"We want sabbaticals for our teachers for them to be able to do research and to write books etc. It just so much that we want for the members."
She continued: "Then internally for the union we want to build a new multi million dollar new Walker's Hall. So we are going to embark on that and we also want to do a housing project for our members because we have a list of approximately 250 members who want to acquire homes. Also this year June it is going to be our election period.
"So within the next six months the Bahamas Union of Teachers has a lot of work to be done and we hope to continue the work that we have been doing."
Of all the unions the Minnis government has had to deal with since coming to office Belinda and the BUT have been among the most vocal.
With little cash in the treasury it's going to be interesting for all to see how Minnis and Co deal with Belinda in the coming months.
When Belinda wanted three extra days holidays at Christmas for her members seemingly all it took was a phone call to the Prime Minister to secure approval, something the opposition has already seized upon.
How the government deals with a 20 percent pay claim is going to be interesting to say the least.