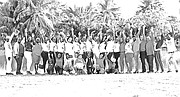 By ALESHA CADET
Tribune Features Reporter
acadet@tribunemedia.net
In an effort to bring as many 'sickle cell warriors' together as possible, shatter stigmas surrounding the disease and provide one another with a support system, the '242 Sickle Cell Warrior' group last Thursday came together for a unique.
"We all live with the sickle cell disease and we not only want to raise awareness of the disease, but we want to provide support to each other. Living with this condition, we all go through hardships and sometimes need someone who has endured what we have and understand so that we can lean on them," said Danielle Ferguson, a Sickle Cell Warrior.
Held at the residence of fellow warrior Cayle Mortimer and Kayla Smith-Mortimer, who opened their home to the 242 sickle cell family, Danielle said this event was important for all warriors to get to know each other, exchange contacts and keep in touch. More than 60 people were in attendance.
"We are in the fight together and although we are on movements on our own, we will be a force when we are together. No one living with sickle cell should suffer in silence. We want to ensure that warriors feel loved, appreciated and are granted access to the simple tools that may make life a little easier, such as heating pads, pulse oximeters and oxygen tanks," said Danielle.
According to the Mayo Clinic, sickle cell anaemia is an inherited form of anaemia — a condition in which there aren't enough healthy red blood cells to carry adequate oxygen throughout your body. There's no cure for most people with sickle cell anaemia, but treatments can relieve pain and help prevent problems associated with the disease. Periodic episodes of pain, called crises, are a major symptom of sickle cell anaemia.
Danielle said in her case the pain is sometimes indescribable. Pain and exhaustion, she noted, are a constant for many warriors. While there are good days, there also bad days, but through it all she is thankful for life and grateful for her family and friends, and her fellow warriors who have supported her.
She said the recent event played a major part in exchanging knowledge and continued support for one other. After introducing themselves, those in attendance took part in a number of activities, including a candle lighting in remembrance of fallen warriors.
"Personally, I did not grow up knowing many other persons living with sickle cell to share their experiences and be a shoulder to lean on, so the intent here was that everyone developed a connection, so that we feel comfortable to express and ask questions with no judgement. Also, there is power in numbers. Often times sickle cell disease is overlooked and discriminated against, and we would like to collectively break the stigma. We may appear in good health, but we can be in excruciating pain. We may visit the hospital frequently, but we are not there to seek drugs. Our plan is to work to eradicate the stigmas," said Danielle.
It was after Kayla Smith-Mortimer's constant visits to various sickle cell warriors in hospital over the past few months, and Danielle networking through her sickle cell WhatsApp group, that the decision was made to host the gathering.
"Initiatives like this are extremely important because there is so much we can learn from one another. We can come together to help each other in so many ways and work together to seek the answers we may not know individually. This is only the beginning, as we intend to continue to work towards educating each other and the Bahamian public on living with sickle cell and how to manage this disease. It warms my heart getting to know many others warriors, and bringing us together as a family is something I am so excited about. I believe that we are powerful together and we are about to create an impact on the Bahamas by telling our stories and raising awareness. Also, we will impact each other as we will strive to be a shoulder to lean on for one another," said Danielle.