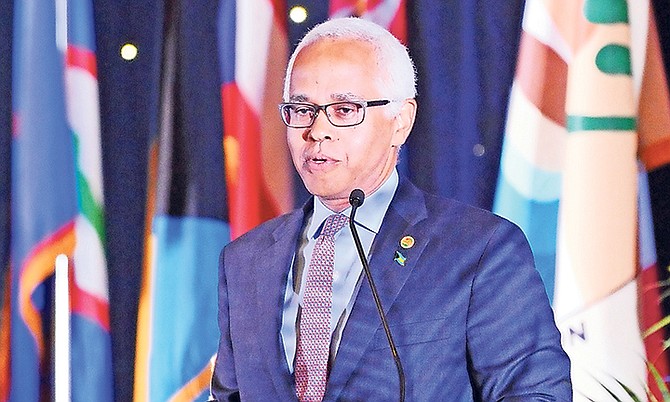 By RICARDO WELLS
Tribune Staff Reporter
rwells@tribunemedia.net
AVIATION regulators are "quite close" to the introduction of new pilot licencing requirements, Tourism and Aviation Minister Dionisio D'Aguilar said yesterday.
In an interview with reporters outside of Cabinet Mr D'Aguilar said industry officials were preparing to launch the new requirements on the heels of the work currently being done to "frustrate" illegal charter operators within the industry.
He also revealed officials were presently consulting with industry stakeholders to clearly identify what they are willing to work with moving forward.
"Obviously you don't want to completely kill commerce by air," the Freetown MP said. "I mean, it is a very important component of our economy and... we want to ensure the travelling public are in planes and piloted by pilots who are properly licenced and have all the necessary qualifications."
The sector has undergone intense scrutiny in the wake of a fatal plane crash off the coast of Andros a year ago. The January 17, 2018 accident reignited concerns about the aviation sector's longstanding "hacker" problem which officials have since vowed to address.
A report into that crash portrayed the pilot, Darren Clarke, as a rule-breaker who experienced anxiety flying in non-ideal conditions and who was not qualified to fly the doomed aircraft. After the crash, which killed six people, the Air Accident Investigation Department recommended Bahamas Civil Aviation Authority "increase its surveillance and oversight of the general aviation sector and put in place policies to reduce the high incidence of unauthorised commercial operations."
The fallout prompted a pledge by the Civil Aviation Authority to clamp down on illegal charter operations by embracing technology, involving law enforcement and increasing surveillance to identify and prosecute unregulated operators.
The Piper Aztec involved in the crash was US-registered in the state of Delaware. Sources indicated the pilot had a US licence, which required a medical examination every two years, but none had been conducted since 2014.
Mr D'Aguilar, in the days after the incident, described the issue of illegal charters as "unacceptable," asserting the practice was allowed to continue due to "decades of neglect".
Addressing the status of the new regulations yesterday, Mr D'Aguilar said: "We do want to ensure that everybody is properly licenced before they fly a plane for Bahamians moving within the islands."
"So I think (Charles Beneby, the Bahamas Civil Aviation Authority's director general) is very close to saying something, I just need to find out what and when."
Mr D'Aguilar, when reminded that tomorrow would mark the one year anniversary of the ill-fated Andros flight, commented: "We all are very mindful of that date. I was hoping that we would be able to roll something out prior to that date and I am hoping that we are, if we are not going to meet that deadline that it is very close. But I know, as I've said, there has been a lot of work done on how best to regulate this industry, properly regulate this industry without crushing the conduct of commerce by air."
He said despite the push to implement new regulations, there needs be a level of focus given to ensuring that what is proposed does not bog-down the sector with legal push-back and judicial reviews.
"So, it is always a lot more difficult than you think," he told reporters.