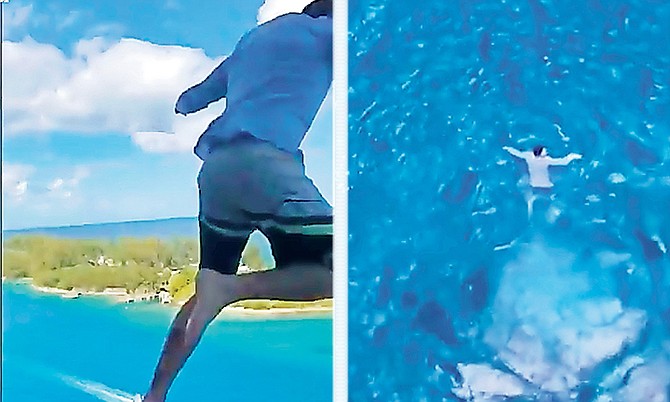 By MORGAN ADDERLEY
Tribune Staff Reporter
madderley@tribunemedia.net
A ROYAL Caribbean passenger has been banned from the cruise line for life after jumping off the 11th floor of a Symphony of the Seas ship that was docked in Nassau.
Friends of Nick Naydev, of Vancouver, Washington, filmed the 27-year-old jumping off a balcony and into an estimated 100-feet of water.
Mr Naydev later posted the video to his social media account.
The jumper was not allowed back aboard the ship and local police were called. However, officers reportedly found the situation "amusing" and did not file any legal action, according to Mr Naydev.
Royal Caribbean has since rebuked the move as "stupid and reckless behaviour" in a statement to People. The magazine also reported the cruise will be "exploring legal action" against Mr Naydev and his friends.
The video was posted seven days ago on Mr Naydev's Instagram profile. In the clip, he can be seen climbing onto the railing and leaping into the ocean. Two other people are in the background and one person can be heard laughing hysterically.
The video has been viewed over 100,000 times up to press time.
"This was stupid and reckless behaviour and he and his companions have been banned from ever sailing with us again," the manager of Royal Caribbean's corporate communications told People magazine in a statement.
Mr Naydev has since addressed the matter in a statement to KOIN 6 News, saying he hopes no one else is "inspired" to recreate his actions.
"I am truly astonished at how this video has spread throughout the internet. I did not think this through before I jumped. My idea was this would be a good laugh for my friends and I would just swim back to shore and continue my vacation and never thought this would be this serious.
"When the security caught up with me they told me and my friends that we needed to pack our bags and leave the ship immediately and were not welcome on any of their cruise ships again. Local police in Nassau, Bahamas were called in to pick us up from the ship, but fortunately the police thought the whole situation was amusing and did not proceed to file any legal actions.
"I jumped from the 11th floor and the height must have been well over 100ft. I just hope I don't inspire anyone to try this, because I don't want to feel responsible for any injuries."
According to Yahoo Lifestyle, Mr Naydev described his own injuries in the comment section of the video.
"My feet were actually fine. It was my neck and tailbone that hurt," he wrote. "Could barely walk for three days and could barely sleep from the pain. I'm good now."
Yahoo Lifestyle added another comment clarifies that Mr Naydev "was picked up by a small boat and brought onto the ship by cops to gather his things and leave."
Meanwhile, companion Konstantin Kryachun told the site that he and his friends "didn't even consider the consequences prior to the jump, they just captured it in a bid for viral fame."
"He's jumped from those kind of heights before, and we didn't really care about the consequences with the cruise company," Mr Kryachun said. "We just wanted to get a video of it and make it go viral."