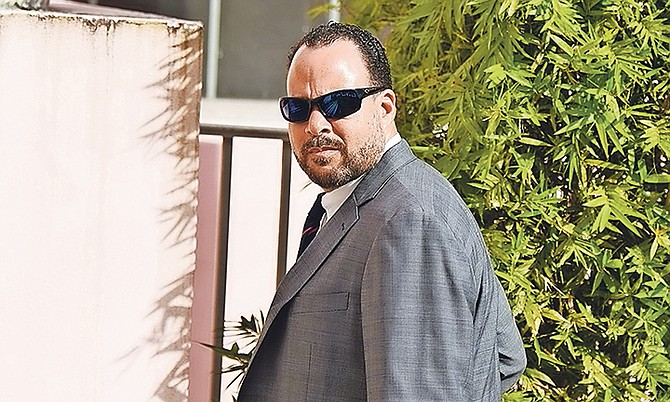 By RICARDO WELLS
Tribune Staff Reporter
rwells@tribunemedia.net
PROSECUTORS in the extortion and bribery trial of Frank Smith erred when they failed to interview former Deputy Prime Minister Philip "Brave" Davis and analyse the alleged role Smith played in awarding Barbara Hanna a $500,000 annual Public Hospitals Authority contract, according to Keith Knight, QC, Smith's lead attorney.
On Friday, at the close of his "no case" arguments, an animated Mr Knight suggested that these two key failures flawed major aspects of the prosecution's case, namely the establishment of how Smith allegedly used his position as PHA chairman to influence Hanna's receipt of a contract, and then extorted her and accepted bribes.
Mr Knight also criticised the failure of investigators to speak to Mr Davis to verify, at the very least, when and why he spoke to Mrs Hanna. Information Mr Knight said would have clearly shown the accused and virtual complainant never met, or at best met after Mrs Hanna was awarded her contract.
Closing his submissions, Mr Knight said: "When I spoke about shoddy investigations (the prosecution) reprimanded me, tell me that shoddy investigations is not effective… that is what I meant; (the prosecution) should have gone to PHA to find out what was his involvement in this award of contract."
Mr Knight continued: "What was his involvement? What he did? Did he even vote at the board meeting? What did he do?
"The shoddiness … they said this morning that I didn't challenge whether or not Mrs Hanna went to Mr Davis. (The prosecution) should have gone to Mr Davis and taken a statement because what she said is she went (to him).
"Why she went? What did he do? What did he say? That is what they should have done," Mr Knight said.
"But instead what did they do? Caused Mrs Hanna to not even have the slightest idea why she was there," he added, referring to Mrs Hanna's earlier indication that she was unaware of why investigators sought her out.
Mrs Hanna previously testified that she was awarded the contract after former Minister "Brave" Davis sent her to meet with Smith and that she met with Mr Davis while waiting for approval on her bid.
The submission closed nearly 14 months of deliberations, leaving it for Chief Magistrate Joyann Ferguson-Pratt, who is hearing the matter, to make her ruling.
Prosecutors have charged that Smith, between April 2016 and April 2017, in respect of his duties as a public officer, demanded and obtained $5,000 per month from Barbara Hanna, knowing he was not lawfully authorised to do so.
He is also alleged to have attempted to extort another $5,000 from Mrs Hanna. Concerning the bribery charge, it is alleged he solicited $5,000 a month from Mrs Hanna for aiding her to get a contract with PHA.
The case will resume on February 1.