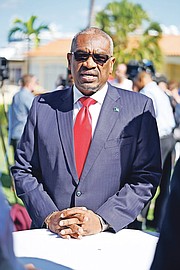 By MORGAN ADDERLEY
Tribune Staff Reporter
madderley@tribunemedia.net
PRIME Minister Dr Hubert Minnis yesterday could not specify when his administration will release a report detailing officials' travel expenditure, but vowed all ministers have stayed within their allotted travel budget.
Dr Minnis made these comments after delivering the keynote address at the 2019 Bahamas Business Outlook forum.

When asked by reporters when the public could expect this long-promised report, Dr Minnis evaded the question but maintained his government's commitment to transparency.

"I couldn't answer that right now," the prime minister said. "But we are very transparent.
"When I travel, you all know exactly who accompany me, so you basically know the cost, and the ministers likewise. What I can say is that travel is a budgeted item and every minister has stayed within the budgeted item.
"So if you review the budget, you would know how much has been allotted for travel and therefore you can automatically conclude that we have spent less than what is there. So you got your answer."
When asked if it is therefore unclear when the report will be made available, Dr Minnis said again referenced the budget.

"We can give more, but if you look at the monies allotted for travel, you automatically know what the government is spending. It's there, in black and white."
Last May, Press Secretary Anthony Newbold said the Minnis administration's promised 'travel spreadsheets' would not be released before the end of 2018.
Mr Newbold said the spreadsheets - expected to lay out travel dates, locations, delegation size, expenses and purpose of trip - could not be compiled and disseminated in 2018 due to the extensive nature of the proposed documents.
Despite the lengthy delay in releasing the information, Mr Newbold has said the government remains in line with its travel policy for officials, insisting that anyone travelling on government business must still file a report.
When asked directly why the reports would take such a long time, he added: "You are talking about travel for all the ministers and you want explanations. You don't want to just know he went to Washington DC, this is why he went to Washington DC, these are the people he took with him, this was the objective and this is what the Bahamian people will come to expect.
"All of that needs to be, and he has promised that for all the ministers," he added.
While in opposition, the Minnis-led Free National Movement criticised the Christie administration for what it termed, "wasteful expenditure" for travel allocations.
Throughout that term, the FNM slammed the Christie administration for both the frequency of trips and the size of the delegations.
When elected in 2017, the Minnis administration promised to curtail government spending on travel and give the public a full accounting of every trip executed.
In September 2018, Pineridge MP Frederick McAlpine criticised his own party for the trips made by officials.
Shortly after, in October, Minister of Agriculture and Marine Resources Renward Wells defended this travel, saying sometimes conducting the nation's business requires going to other countries.
Mr Wells added what differentiates this administration's travel from the Christie administration's travel is purpose and transparency.
In early 2018, Dr Minnis tabled a document in Parliament which showed his prior trip to Texas to drum up investment and promote the country overseas cost taxpayers nearly $40,000.
The document was tabled after he promised to be transparent about the costs associated with high-level government travel. According to the document, the four-day trip in January 2018 for Dr Minnis and his delegation cost $37,181.76.