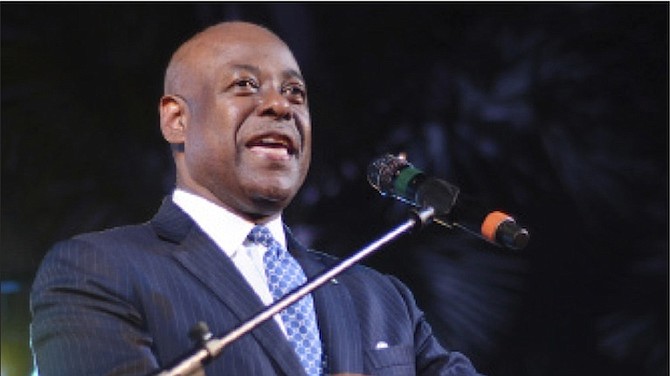 By RASHAD ROLLE
Tribune Staff Reporter
rrolle@tribunemedia.net
NEW documentaries have renewed focus on the failed Fyre Festival of 2017, but former Tourism Minister Obie Wilchcombe still backed the government's involvement in the lead-up to the fiasco yesterday, telling The Tribune: "We did all the right things."
Streaming services Netflix and Hulu released their documentaries last week, highlighting how people ignored signs the event was being falsely advertised.
Festival organiser Billy McFarland has since pleaded guilty to wire fraud, having used fake documents to attract investors to push more than $26m into his company.
Neither documentary examines the local approvals process for the festival, but they have renewed questions about the Ministry of Tourism's and other agencies' due diligence protocols.
Mr Wilchcombe said he has no interest in watching the documentaries.
"I don't waste time," he said. "What's it going to do to the Bahamas? Unfortunately we're making a bigger 'doo doo' about this than anyone else is. They've already dealt with the matter. (McFarland) has accepted responsibility for what he was doing. Up to the very last minute no one really knew the level to which the matter had fallen apart. I don't think we should lose sight of the fact that at all times, the Bahamas did what it was supposed to do."
Mr Wilchcombe said he met McFarland once and found his presentation to top tourism officials convincing.
"He told us 'we don't want anything from the government, we just love Exuma, we just love the Bahamas.' In fact, at one point in the conversation I said 'does Exuma have the capacity?' He said 'we're getting it ready' because I suggested that if not you could use Grand Bahama that has hotel accommodations and everything. He said 'no I want to use Exuma' and that's where it was."
Netflix' documentary, "FYRE: The Greatest Party That Never Happened", makes several references to the infrastructure challenges of Exuma at the time of the event. The festival was marketed to ticket buyers as being an exclusive event on a private island, but the event was set up on Great Exuma the same weekend as the island's annual regatta, a time when the island's resources were already stretched thin.
It has never been clear what the Ministry of Tourism did to ascertain whether the island could sustain an event of the size of Fyre Festival. Organisers in the documentary expressed concerns about insufficient water, housing and inadequate provision of flush services of the festival site.
Although numerous local vendors were left unpaid when Fyre Festival collapsed, Mr Wilchcombe said the event "didn't cost the Bahamas anything."

However, this newspaper previously reported the government was owed hundreds of thousands in customs duties by the organisers.
"We provided the support we provide for any investor and any person who seeks to do something and get the necessary approval that they get from Exuma to begin with, it didn't cost the Bahamas government anything, they didn't ask the Bahamas government for anything, but in the business we're in there are risks taking all the time," he said.
Asked what the Ministry of Tourism learned from the event, the former minister said there will likely be increased scrutiny of the background of investors. "Hindsight is 20/20," he said. "We have to ensure maybe more involvement but of course you want to limit your involvement because it's a risky business. No matter how much you invest, your weather could change, your circumstance could change, all kinds of things could happen. What you have to do is at all times be concerned about the integrity of the individuals involved."
"The Ministry of Tourism staff was professional at all times," he said. "We assigned the best team we have that has worked with a collection of individuals throughout the ministry who have worked on major projects, some still going on now with international companies and showing great success, but this one just was one that was very traumatic, certainly we all learn, and I think more due diligence will be given moving forward."
In May 2017, Tribune Business reported Exuma's business and local government executives were urged by Ministry of Tourism officials "to work together" and ensure the ill-fated festival's success just one month before its collapse.
Pedro Rolle, the Exuma Chamber of Commerce's president, revealed at the time that all the island's stakeholders were summoned to a meeting that was chaired by Ministry of Tourism representatives, and attended by Fyre Festival's main principal, McFarland.
"Tourism gave the assurance, or requested the assistance of the community, to say we ought to work together to make this happen," Mr Rolle said in 2017. "They invited all the local government departments in Exuma to come together in the meeting, and brought in all the stakeholders, including the Chamber. They [Tourism] chaired that meeting. That's why I think sufficient due diligence was not done."@Jumpline See...:SEE page one