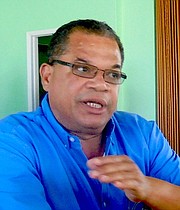 By MORGAN ADDERLEY
Tribune Staff Reporter
madderley@tribunemedia.net
THE Bahamas is set to become the second country in the region to embrace pre-shipment inspection of used vehicles for road safety, Labour Minister Dion Foulkes announced yesterday.
Yesterday a contract was signed between the government and EAA Company Limited, a Japanese used vehicle inspection specialist company headquartered in Yokohama.
Mr Foulkes called this a "milestone achievement" which will "(establish) the necessary parametres, for roadworthiness of all used vehicles imported from Japan into our country."
Regarding the value of the contract itself, Mr Foulkes said, "There's absolutely no charge to the government of the Bahamas.
"This is not an additional tax to the tax payers of the country. The fee is charged in Japan and the exporter in Japan pays the $150. We get $20 back, the Bureau of Standards, gets $20 back out of every inspection for the administration that they might have to do in the Bahamas.
"As a matter of fact, it's a revenue for us."
Mr Foulkes cited reports from the Arawak Port Development (APD) which found that in 2016, more than 11,000 vehicle units – both passenger and commercial – were imported. In 2017, there was a major increase to 18,469 units and in 2018 there was a slight decrease to 17,191 units.
Mr Foulkes said the "vast majority" of these imports were from Japan, and it is anticipated that the 2019 import numbers will be similar to those of the last two years.
"From these statistics, the need to ensure these imports are 'roadworthy', prior to leaving the countries of origin, is essential to protect The Bahamas from continuing to be a 'dumping ground' for unsafe motor vehicles," Mr Foulkes said.
"Japan as a country, has suffered several nuclear accidents, the latest in 2011 in Fukushima, and it is imperative that potentially radiated used vehicles, are not allowed to enter our country.
"This pre-inspection of verification to conformity (PVoC) programme specifically addresses this risk by including a mandatory requirement for radiation inspection on every inspected vehicle.
"There is evidence that even six years after the last nuclear accident in Japan, highly radiated vehicles are being detected prior to export, where such vehicles are subjected to a pre-shipment inspection.
"While PVoC programmes exist in many parts of the world already, the Caribbean has been somewhat slower to embrace this need for pre-shipment inspection for road safety," Mr Foulkes continued.
"Jamaica commenced their pre-inspection programme in February 2018, and The Bahamas is second in leading the way in the Caribbean, by also regulating to protect our roads from (not roadworthy), potentially end-of-life vehicles."
When asked if there has been any indication that the country has imported any irradiated cars, Bahamas Bureau of Standards and Quality (BBSQ) Director Dr Renae Bufford said: "We don't have the testing facilities in place for that, and we trust and pray that there isn't.
"But…because we've been a dumping ground for so long and we've not had standards in place to ensure conformance to such standards, we really cannot answer that question. So we trust that moving forward, in the next three months or so, will begin to ensure that we test for all of these specifications, et cetera, that we will not have cars that are irradiated entering the country moving forward."
Lionel Frederick Albury, president of the Bahamas Motor Deals Association and president of the Auto Mall Group of Companies, said regarding the importation of used vehicles, there are "certain things that tends to happen".
He said in "certain cases," pedometers have been spun back or vehicles have been in an accident — without the consumer's knowledge.
"This inspection process will help to ensure that the vehicles being imported, that consumers are getting value for money," Mr Albury said.
Lee Sayer, vice-president and director of EAA, explained the process a bit further, saying the inspection takes place after the vehicle has been purchased from an exporter.
Prior to the vehicle being shipped, it will be brought to one of EAA's inspection sites.
If the company finds that the purchased vehicle is not suitable, Mr Sayer said it will be rejected. "(The exporter) will either have to bring it to a standard or renegotiate with you, the importer, for a replacement vehicle.
"Every vehicle that passes inspection will receive a certificate of compliance. Each vehicle will have window stickers placed on the vehicle," he added.
Consumers can also access EEA's company website to determine the inspection confirmation of the vehicle.
The inspection process generally only takes 20-30 minutes, and thus does not significantly impact the vehicle's processing time.