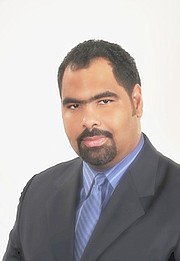 By KHRISNA RUSSELL
Deputy Chief Reporter
krussell@tribunemedia.net
WHILE admitting unemployment is largely a private sector problem, Bahamas Institute of Chartered Accountants president Gowon Bowe said yesterday newly released jobs statistics cannot be used as an indicator of the country's economic performance.
Department of Statistics officials revealed on Monday that unemployment rose to 10.7 percent from 10 percent despite the addition of 2,305 jobs to the labour force.
Job surveys are carried out twice a year – in May and November – and Mr Bowe thinks these snapshots do not give a clear picture of the situation.
"I think the first thing is unlike many other countries we tend to do these employment statistics studies twice a year and what that does is it actually is not a very good indicator of how employment numbers are moving throughout the year," Mr Bowe told The Tribune.
"So if we compare ourselves to North America as an example because the job statistics come out every month and they can see there is a trend of job creation and there's a trend of job reduction. They can see the trends in terms of persons entering the work force, persons leaving the work force.
"Whereas we tend to do it in two very cyclical periods in terms of May is right before the school leavers and so when you think about the evolution cycle that is any progress that would be made up until May would not be impacted by any major event. Right after May you have the June school leavers that's the persons not going off to university and if the job creation numbers have not outpaced the persons who graduated from school then naturally you would see a deterioration in November.
"While it is better than nothing, the infrequency or the lack of frequency of the actual statistics doesn't give us meaningful information. Either it gets very high or they get very low."
He continued: "Our fundamental unemployment hasn't changed and we know that and the reason is there has been no significant growth in the economy. The GDP growth rate has been lethargic in the sense that its certainly been under 2 percent for a very long period of time and we've actually had extended periods where we have had zero growth or negative growth and so in the absence of exponential growth, we know that we have about 5,000 to 6,000 school leavers a year and if we are not creating jobs in a fast pace then we are not making a fundamental dent in the jobs statistics.
Figures released on Monday show unemployment in New Providence also increased from 10.1 percent to 11 per cent.
Nonetheless, Finance Minister K Peter Turnquest attempted to shift focus from the growth of unemployment to the 10,400 net jobs added to the economy as of November 2018 since the Minnis administration took office in 2017.
Regarding this, Mr Bowe said the country needed to move away from the promotion of jobs created.
"Well the issue is when you look at it in terms of how many more persons are being employed. Even if we take for example that we have a work force of I think 200,000 and we are saying we have unemployed of 25,000. If we say that we have a work force of 180,000 having a 10 percent increase in the number of jobs, the question really is how many shrinkages in terms of people leaving jobs that they were in before has also taken place?
"So in terms of job creation there is one side in terms of what new jobs have been created, but the question is how many net new jobs and is the statistic being quoted actually according to net new jobs because if we are seeing continued declines and shrinkages in certain areas of the economy certainly seen outsourcing and back office consolidation by the financial services sector, we've seen some shrinkages in terms of cyclical employment on the hotel front when we are entering the summer months."
Officials said employment gains were driven by private sector employees, which increased by 3.8 percent to 135,135 persons when compared with May. Additionally, the number of self-employed persons stood at 32,475, an increase of 11.9 percent since May.
Overall, 210,560 people make up the employed labour force, while the unemployed labour force consists of 25,135.