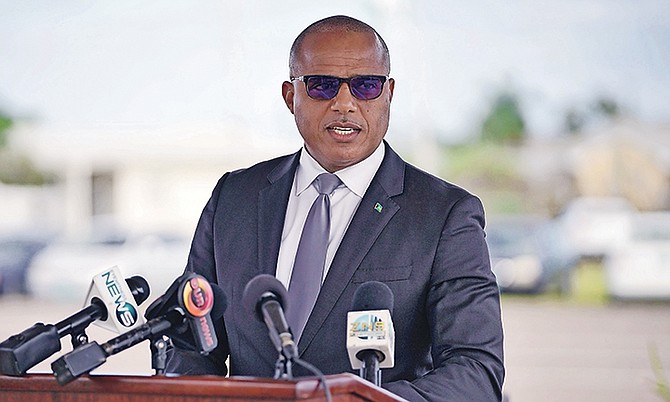 By RICARDO WELLS
Tribune Staff Reporter
rwells@tribunemedia.net
THE Minnis administration is down to a short-list of candidates for the role of commissioner at the Bahamas Department of Correctional Services (BDCS), National Security Minister Marvin Dames said yesterday.
In addressing ongoing reform efforts at the Fox Hill facility, Mr Dames told reporters outside of Cabinet the government is preparing to name someone to the substantive post "in a few short weeks".
He also indicated that government and national security officials are now conducting interviews for other executive team members, with a view of naming an entirely new team this quarter.
"We are hoping that, where are we now, the 22nd… in a few short weeks that we should be announcing the new commissioner," he said.
Mr Dames added: "(While) we currently don't know… interviews are currently being conducted… and hopefully from there we'll have recommendations and look forward to the new (Department of) Corrections commissioner and hopefully by the end of this first quarter we should have the full executive team in place."
When asked by The Tribune how many candidates were being considered for the post of commissioner, Mr Dames said: "Well, I was told that there was some, maybe eight applicants, all were local. So we will see how that process unfolds."
A list he said had already been short-listed.
A search for a new commissioner was launched in August after Patrick Wright, the most recent commissioner at BDCS, commenced his pre-retirement leave.
At the time of that announcement, Mr Dames said in the press that his ministry was preparing to advertise internationally and locally to fill the post.
Senior corrections officer Charles Murphy was named to the post in an acting capacity thereafter.
Officials have said the prison is going through reform as it continues to transform into a correctional facility from a punitive one.
In December, Mr Dames said a tremendous amount of work had already been done with respect to reviewing the proposed Probation Bill.
"The Bahamas Department of Corrections is going through a transformative period that will certainly change it for the better," Mr Dames told reporters at the time.
"We are pleased with the direction in which we are taking the Bahamas Department of Corrections and next year will be a very special year for them. We will have a new commissioner, a new executive team in place. That will be a transformative team, a team of individuals who understands the business of rehabilitation and parole integration," he said.
Addressing this overhaul yesterday, Mr Dames added: "Yeah, we are working ahead. I mean if you can recall just during the end of last year we would have had a conclave at Baha Mar where we were reviewing everything and we are proceeding ahead in respect to the modernisation of the Corrections Department, and (with) respect to the rehabilitation and (with) respect to the human resource component in terms of succession planning, training and development."