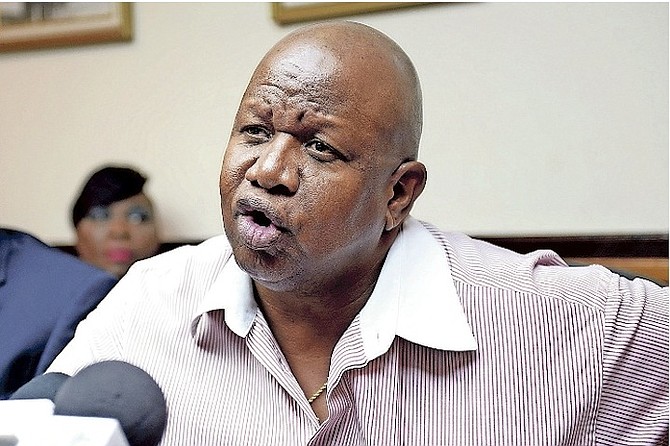 By RICARDO WELLS
Tribune Staff Reporter
rwells@tribunemedia.net
POLICE are "actively investigating" the cause of a fire at Bahamas Power & Light's Gladstone and Fire Trail Roads sub-station, head of Police Fire Services Chief Superintendent Walter Evans said Saturday.
Bahamas Electrical Workers Union president Paul Maynard yesterday said the blaze occurred after an 11kv board overloaded and crashed.
Mr Maynard said the fire started just before noon, and "took sometime to deal with".
He said once the fire was out, technicians immediately went to work on transferring disconnected customers over to a segment of the board that was not affected by the fire. This resulted in several other interruptions in service.
A somewhat irritated Mr Maynard said of the ordeal: "Again, we find ourselves here. I've been saying, and I'm sure (the Bahamian people) are tired of hearing me say it, we are dealing with old equipment that will continue to breakdown and continue to fail.
"We are operating as best we could with what we got. Once the fire was done, we had to do what was necessary to get things in a position where we could work."
After frequent power outages and issues with equipment over the years, Mr Maynard has routinely called for more modern equipment to replace aging and flawed machinery.
In a similar circumstance last September, Mr Maynard warned that equipment at BPL had already "done all it can," insisting then that the company had to get serious about replacing its old machines.
He stated: "This shouldn't come as a surprise to anyone. The boards being used for transmission and distribution have run their course.
"These types of issues will continue as long as we depend on this ancient equipment. We need to get serious about making the necessary changes and stop this shock and surprise when things break down."
Those comments came after the fourth fire to affect BPL occurred over the course of a week. Three of those fires happened at BPL's Clifton Pier Power Plant and the other at its Blue Hills location.
Those fires led to a statement from Progressive Liberal Party chairman, Senator Fred Mitchell, who urged the Minnis administration to do all that was necessary to facilitate meaningful reform in the energy sector.
Saturday's outage, according to social media reports, affected customers in the south-western section of New Providence.
The Tribune understands BPL considered the fire "not serious".