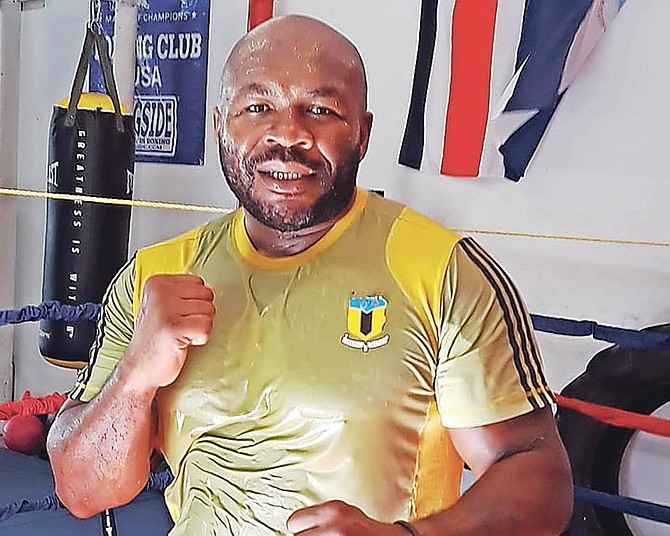 By BRENT STUBBS
Senior Sports Reporter
bstubbs@tribunemedia.net
SHERMAN 'The Tank' Williams, fresh off his second round knockout over Samuel Miller in Monteria, Colombia, on January 18, was invited to return for another bout to take on a Venezuelan on March 1.
While that offer is still on the board, Williams said he's busy gearing up for his return home for his Universal Boxing Organisation's international title fight against Johnny White, of Houston, Texas on April 6.
"Being in Colombia and putting on such a great performance enabled me to get a second offer to come back and fight," Williams said. "But I'm just waiting on word from the UBO because normally you would have to have a period of 40 days in between fights if you are nominated to fight for a championship fight.
"So the fight in Colombia is on March 1 and I'm seriously considering that offer but, at the same time, I have to wait on the mandate from the UBO because of the proposed fight on April 6 against Johnny White."
At 46, the Grand Bahamian journeyman who resides and fights out of Vero Beach, Florida, said he's delighted to be able to continue his career, especially when there are people who feel as if he should be hanging up his gloves.
"When you look at the fight last week with Manny Pacquiao at 41 and Floyd Mayweather at 42, I just think that 2019 is going to be a positive year for the 40-plus guys and I think it's a good sign that sports is changing and the era of sports is changing," Williams said. "I'm happy and proud to still be pushing through at age 46." With a modest 41-15-2 win-loss-draw record in a career that began with a loss against Renard Jones on June 24, 1997 in Las Vegas, Williams said his desire and passion for the sport has been the key to his longevity.
"I've been blessed and I'm working in every avenue of the sport as a fighter, a trainer and a promoter," he revealed. "I've been working with the Police Athletic League's amateur programme for the last five years, I've been putting on camps and mentoring guys in Europe and I started promotions through Bahamian Sons in 2005.
"I really feel that with this new generation, there is something to be had. I think that if they can be provided with the right platform, we can see the re-emerging of boxing, not just in the Bahamas, but in the Caribbean. We can could catch it. So that keep me going on a daily basic."
For the last decade, Williams said he's been getting constant calls from promoters to fight because they feel that he has been reliable and he's just as competitive nowe as he was when he was 25.
"I think that the desire in my heart and the passion that I have for the sport is what keeps me going," he stressed. "As an athlete, a fighter, a trainer, a promoter, it's just a pure passion that keep me going."
After launching a successful Bahamian Sons' show in his hometown of Grand Bahama last year, Williams said the plan is to bring the second edition to New Providence before he take it to Bimini next year.
"We are negotiating with local TV to put together some of these shows in the Bahamas to showcase our up and coming fighters," he revealed. "We also have some request from Trinidad and Jamaica for some of their fighters to get on the show.
"So if we can get these shows to be showcased on television, it would go a long way in helping our region from an eco-social point of view for the viewing public."
While Williams is expected to be the headliner for the April show, he intent to showcase at least 5-6 fighters from the Strikers Boxing Club, including Tyrone Oliver, who turned pro on the show in Grand Bahama, as well as undefeated heavyweight Amon Sands.
"From the international side, we are going to have Vivian Harris, a former welterweight champion from Trinidad and two heavyweights from Barbados, who will also be on the show," Williams disclosed.
"So the card is building with a good mixture of Bahamian and foreign fighters."
Williams said he also intent to bring in two fighters from Denmark, whom he have been working with. He said they should be in another training camp as they did in Florida last year. But this time, he said he want to get them to come here to fight.
In the meantime, Williams said he's working on the logistics to have an amateur team from the Bahamas to travel to Florida to compete against the Police Athletic team and hopefully they can come in an exchange programme to the Bahamas.
"I just want to make a change and set a platform for the future generation to come," Williams said. "I know I won't be fighting forever, so I want to make sure that I can assist as many Bahamians as possible whenever I'm done."