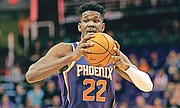 By RENALDO DORSETT
Tribune Sports Reporter
rdorsett@tribunemedia.net
Both Bahamian born players in the NBA will participate in the league's All-Star Weekend festivities.
Deandre Ayton was selected as a member of the World Team for the 2019 Mountain Dew Ice Rising Stars, to be hosted Friday, February 15 at the Spectrum Center in Charlotte, North Carolina.
Ayton currently leads all rookies with 27 double-doubles, 10.6 rebounds per game and a .594 field goal percentage. He also ranks second in scoring at 16.4 points per game in 47 appearances this season.
His field goal percentage is the third-highest in NBA history by a rookie qualified for the league leaderboard and the highest by a rookie who is averaging a double-double.
The No. 1 pick in the 2018 NBA Draft has totalled the most rebounds (496) through 47 career games in Suns history and the third-most points (770) behind only the franchise's two all-time leading scorers Walter Davis and Alvan Adams.
Ayton is the 11th player in franchise history to participate in the 25-year history of Rising Stars, joining Wesley Person (1995), Trevor Ruffin (1995), Michael Finley (1996), Steve Nash (1997), Shawn Marion (2001), Amar'e Stoudemire (2003; 2004-MVP), Markieff Morris (2012), Miles Plumlee (2014), Devin Booker (2016; 2017) and Marquese Chriss (2017).
Last week, Buddy Hield was named as a participant in the 3-Point Contest, set to be hosted on State Farm All-Star Saturday night.
Hield previously participated in the Risings Stars Challenge in both 2017-18.
The 25th Rising Stars will pit 10 first and second-year NBA players from the United States against 10 first and second-year NBA players from around the world in the league's annual showcase of premier young talent during NBA All-Star Weekend.
Team World also includes Philadephia 76ers forward Ben Simmons (Australia), Dallas Mavericks guard Luka Doncic (Slovenia), Toronto Raptors forward OG Anunoby (United Kingdom), Phoenix Suns centre Deandre Ayton (Bahamas), Kings guard Bogdan Bogdanovic (Serbia), LA Clippers guard Shai Gilgeous-Alexander (Canada), Nets forward Rodions Kurucs (Latvia), Chicago Bulls forward Lauri Markkanen (Finland), Minnesota Timberwolves guard Josh Okogie (Nigeria) and Cleveland Cavaliers forward Cedi Osman (Turkey). Team USA features Utah Jazz guard Donovan Mitchell, Brooklyn Nets centre Jarrett Allen, Sacramento Kings forward Marvin Bagley III and guard De'Aaron Fox, Los Angeles Lakers guard Lonzo Ball and forward Kyle Kuzma, Atlanta Hawks forward/centre John Collins and guard Trae Young, Memphis Grizzlies forward/centre Jaren Jackson Jr and Boston Celtics forward Jayson Tatum.
Each participant on the World Team's 10-player roster hails from a different country, with four continents represented (North America, Africa, Europe and Australia). The World Team also includes three players who participated as campers in Basketball Without Borders (BWB), the NBA and FIBA's global basketball development and community outreach programme - Ayton (BWB Global 2016), Gilgeous-Alexander (BWB Global 2016) and Markkanen (BWB Europe 2014; BWB Global 2015).
NBA assistant coaches selected the Rising Stars rosters, with each of the league's 30 teams submitting one ballot per coaching staff. A ballot consisted of four frontcourt players, four guards and two additional players at either position group for each team. Voters also had to choose a minimum of three first-year NBA players and three second-year NBA players for each team. Coaches were not permitted to vote for any player on their team.
Boston's Kyrie Irving (US Team) and Dallas' Dirk Nowitzki (World Team) will serve as honorary coaches in MTN DEW ICE Rising Stars.
The official Rising Stars head coaches will be an assistant coach from each 2019 NBA All-Star Game coaching staff. The All-Star Game coaching staffs are determined by the best record in each conference through games played on Sunday, February 3.