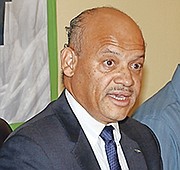 THE Cabinet Office has announced the appointment of Michael Foulkes as Parliamentary Secretary in the Ministry of Social Services and Urban Development, effective from January 30.
As Parliamentary Secretary, Mr Foulkes will be responsible for assisting Social Services and Urban Development Minister Frankie Campbell.
Mr. Foulkes previously served as Executive Chairman of the Bahamas Agricultural and Industrial Corporation (BAIC). Bishop Gregory Collie, former deputy chairman of BAIC, has now been appointed its chairman.
Mr Foulkes spearheaded the successful weekly Pop-up Farmers Markets in New Providence that generated approximately $250,000 in earnings for the Corporation and benefited many local farmers in 2018. The Corporation's financial losses were also reduced in 2018.
"I am pleased to have Mr. Foulkes in this new assignment in the important area of social services," said Prime Minister Hubert Minnis. "He has shown leadership at BAIC and will make a valuable contribution in his new role."
Mr. Foulkes earned a Bachelor of Science (BS) in hospitality management from Florida International University, a Juris Doctorate (JD) from Nova Law School and a Certificate of Legal Education (CLE) from the Eugene Dupuch Law School. He was called to the Bahamas Bar in 2000.
He is a partner at Bethel, Moss & Co law firm and served as co-chairman of the National Insurance Board Appeals Tribunal from 2007 to 2012. Mr. Foulkes is a former member of the Licensing Authority, 2007-2012 and served as a member of the Board of The Bahamas Mortgage Corporation from 2001 to 2002.
He also served as chairman of the Education Loan Authority from July to December 2017.
Mr. Foulkes is the son of former Governor General Sir Arthur Foulkes and the late Naomi Foulkes. He is the father of two children, Michael-Antony and Michelle.