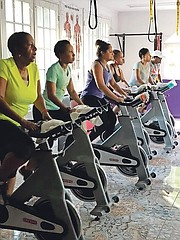 By JEFFARAH GIBSON
Tribune Features Writer
jgibson@tribunemedia.net
With New Providence not really being a bicycle friendly city, indoor biking is steadily becoming a popular alternative for those who want to give their bodies a low-impact, but effective workout.
Cycling in place may seem boring to the person who enjoys beautiful scenery and a fresh breeze on their face. However, due to the Bahamas' climate and Nassau's infrastructure, it is an exercise that is not always possible do to outdoors. So for those not wanting to miss out on all the benefits of cycling - increased cardiovascular fitness, muscle strength and flexibility - indoor spin classes have been the answer.
"Cycling is a low-impact form of exercise, meaning less impact on surrounding joints, more importantly the knee joints," said Regina Tonia Smith, owner of Energy Fitness Bahamas
The fitness studio is hosting its Sip N Cycle event this Friday from 6pm-7pm to expose people to the benefits of cycling.
"Other benefits of indoor cycling include: fat loss, improvement in endurance and stamina. Indoor cycling can also provide a rush of adrenaline - similar to what is known as a runner's high, which is a rush of adrenaline and a release of happy mood-inducing neurotransmitters known as endorphins," said Ms Smith.
"Endorphins tend to create feelings of euphoria, lower stress levels, and enhance the body's immune response. Spin classes are all about community. That's what makes them so special. It's really an encouraging environment. There is nothing like it. The level of camaraderie is like no other exercise class," she said.
Ms Smith said the aim of the event is to get more people moving; introduce newbies to the fun, intimate fitness family at Energy whilst getting in a good sweat.
"At the end of the class participants can stay back and enjoy a glass of champagne on us and meet and greet with the instructors and ask any questions they might have," she said.
"Cycling focuses on endurance, strength, interval, and high-intensity training using the stationary bike. The indoor cycle that evolved from the stationary bike is designed with a heavy weighted flywheel, chain drive, and friction resistance, offering an experience similar to that of a road bike. The three key components to a great spin class - which is what keeps are clients engaged - is great music, encouragement from your instructors and encouragement from your fellow riders. We play the latest soca jams, Top 20 Billboard hits. Music is everything in a spin class."
In addition to the upbeat atmosphere of the classes, Ms Smith stresses the countless benefits to be gained from cycling, which she said is an effective form of cardio.
"Cycling has been around for decades, but with the recent launch of the SoulCycle spin studios, and their swift franchise expansion over the last five years, it has risen in popularity," she said.
And what makes it also popular is that people can engage in an activity they enjoy in comfort.
"With the Summer months in full swing it's really hard for people to exercise outdoors without getting fatigued and dehydrated. We don't want people to stop moving because of the heat. We offer a cool and comfortable environment for you to get your workout on. We are inviting people to come out to this event because indoor cycling is fun way to get motivated, get active, burn calories and connect with a great community of people who love to exercise," she said.
Energy Fitness Bahamas opened its doors on May 16, 2016. It is a personal training and small group studio that offers small group classes in Pilates mat, Pilates reformer, indoor cycling, yoga, barre fitness, TRX, and HIIT Bootcamp.
"We are not like the big box gym experience. We offer a personalised experience to all of our clients. Our classes are no bigger than six to eight persons and this ensures that clients are performing the exercises in a safe and effective manner; this in turn produces the results that the clients expect over time. We also host a comprehensive senior fitness programme. We understand that nutrition is a key component to weight loss, as well as a long-term healthy lifestyle, so we also offer health coaching services. We also offer Pilates private sessions for various injuries and special populations," she said.
For more information, visit the Energy Fitness Bahamas Facebook page.