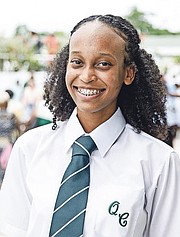 By ALESHA CADET
Tribune Features Reporter
acadet@tribunemedia.net
She may have just finished high school herself, but Mahlia Neely believes one can never be too young to make a difference in one's community. And she is doing just that by heading the nonprofit organisation Uniforms For All (UFA) - an initiative designed to 'recycle' school uniforms and help reduce some of the financial burden placed on Bahamian families.
Mahlia, a recent graduate of Queen's College, is the founding president of UFA, which is led by students from various primary and high schools throughout New Providence, including Queen's College, C I Gibson, Kingsway Academy, Jordan Prince William, Summit Academy, A F Adderley, Hope Academy, St John's College, and St Anne's School.
"UFA was founded simply because a need was sensed. Everyone knows the notorious expenses of the back-to-school season. From textbooks, to backpacks, to school tuition, the costs of the back-to-school season can quickly add up. UFA was founded because, as students who know the expenses, we wanted to relieve parents and students of at least one financial burden," said Mahlia.
Mahlia - a former head girl who received 11 A grades in her BGCSEs - admires how young people from both government and private schools, primary and high schools, are working together to achieve a common goal - to make a difference and assist fellow students to receive the school uniforms they need.
"This is our second year, and last year we successfully recycled and distributed over 650 uniforms, representing over 25 schools in New Providence, to those in need. This year we hope to double this number. I also hope to impress the importance of recycling and reduce the impact discarded uniforms have on the environment. In the future, I want the organisation to expand in both content and location; we wish to begin recycling other school items, such as textbooks, and to expand the initiative to other Bahamian islands, starting with Grand Bahama."
Starting an organisation like UFA is important, she said, as it shows people what the country's youth can accomplish when they put their mind to it. Mahlia believes UFA is a testament to the power young Bahamians to make a difference in society.
"My hope is that UFA encourages other young persons in the Bahamas to make changes and to start initiatives that tackle issues they are passionate about," she said.
There are three phases in the initiative: the donation period, the organising period, and the distribution phase. Mahlia and her team are currently in the donation phase where they are asking members of the public to donate gently-used uniforms, to be placed in bins located at three locations: Solomon's SuperCenter, Solomon's Yamacraw, and Cost Right.
The bins have pre-labelled bags attached to them for donors to include their name, contacts, and the sizes of the uniforms.
"John Bull Business Centre has donated a $250 gift certificate which we will give to the person who donates the most uniforms. This phase runs until July 31. Thereafter, the uniforms will be washed, mended, and sorted by size and school, and our inventory will be uploaded on our website - ufa-bahamas.com - for the public to view and reserve the recycled uniforms - free of charge," said Mahlia.
Individuals and corporate Bahamas can also make monetary donations through cheques payable to UFA Bahamas. She said 100 percent of monetary donations are used for the running of the organisation. People can further donate their time and talent. For instance, seamstresses can help mend uniforms.
In a distribution period, UFA will announce a pop-up location where people can collect the uniforms they need. For more information, contact UFA at (242) 804-2466 or e-mail ufabahamas242@gmail.com.