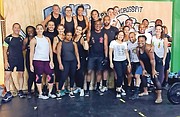 By JEFFARAH GIBSON
Tribune Features Writer
jgibson@tribunemedia.net
EATING 800 grams of fruits and vegetables a day is the only instruction for a new challenge designed to encourage healthy eating all summer long.
The 800-gram challenge launched by Happy Hour CrossFit was created to help Bahamians be fitter, healthier and happier through fitness and community.
The challenge consists of eating 800 grams of fruits and vegetables per day – that's it; there are no other restrictions. According to Karen Eldon of Happy Hour CrossFit, 800 grams of fruits and vegetables will result in improved health and is a simplified way to hit the recommended daily servings.
"The idea behind it is that you are nurturing your body with the good stuff, which leaves less room for the consumption of unhealthy and processed foods. We also believe wholeheartedly in the programme of exercise that we provide," she told Tribune Health said.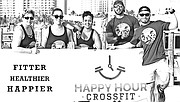 This is the second in-house nutrition challenge hosted by Happy Hour CrossFit and the general public is invited to join in this journey to wellness.
"We are so excited to see the community come together, encourage each other, while most importantly, improving their health, especially because we consider nutrition to be the foundation of all that we do," said Ms Eldon.
The challenge is open to both members and non-members of Happy Hour CrossFit and runs from June 17 to July 14. It includes initial and final biometric testing (weigh-in and measurements), goal-setting, a kick-off seminar that goes over all details of the challenge, weekly mini-challenges, daily tracking and scoring on an customised application, and four weeks of content and nutritional information provided by the app. Participation costs $75 per person. The sponsor for the challenge is CBS Bahamas, who has provided three main prizes to be awarded for different category winners (along with other miscellaneous prizes).
"We are huge on the idea that this is something that can be done day in and day out for a long period of time. We believe that long-term lifestyle changes are so much more important than quick fixes that result in immediately reverting back to former bad habits. The main aim is to learn how to eat better and to realise that it doesn't have to be complicated, it just takes a bit of commitment. We also want the challenge to be fun and very encouraging. Anyone can start this on their own, but sticking with it, feeling encouraged, having fun, sharing ideas and recipes is the beauty of doing it as a group, which also means better results," she said.
Ms Eldon said it is their hope to equip participants with tools for life on how to make better decisions when it comes to eating well.
"We also want participants to realise that eating well doesn't have to be complicated and that most of the time making small changes, little by little, leads to great improvements over all. We also know that the challenge is the easy part and that once it is over, support and accountability are still important for long-term success. For this reason, we also offer on-going nutrition support and continuously check in on goals and progress," she said.
CrossFit is a lifestyle characterised by safe, effective exercise and sound nutrition. It is designed to work for anyone at any fitness level. The workouts are different every day and modified to help each person achieve his or her goals.
"At Happy Hour CrossFit we strive to emphasise the importance of long-term health and wellness. Our workouts focus on movements that are necessary for everyday tasks like pushing, pulling, climbing, and jumping, and workouts that work towards long-term goals. Our nutrition programme also focuses on the long term, not fads or quick fixes, but substantial practices that encourage healthy lifestyle," said Ms Eldon.
Registration for the upcoming "800 gramme" challenge is available online. More information can be obtained at www.happyhourcrossfit.com or via e-mail at info@happyhourcrossfit.com.