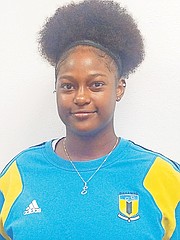 By BRENT STUBBS
Senior Reporter
bstubbs@tribunemedia.net
SHE walked into the Aftershock Boxing Club training programme at the National Amateur Boxing Gymnasium and Elizabeth Hutchinson was an immediate hit with coach Kieshno Major.
Major, a former heavyweight boxer, said he was so impressed with Hutchinson's work ethic that he had no other choice than to start preparing for her introduction to amateur boxing.
Hutchinson came along at a time when Major realised that he no longer had the passion to box, but was more interested in helping the other youngsters in the gym. Major said he decided to give back to the sport by coaching.
"The Aftershock band was started from Valentino (Knowles) and I just carried it on from there," he said. "It came about at a time when a lot of the boxers on the national programme was going through a lot of heartache and pain.
"The Aftershock band makes a lot of blood, sweat and pain, so I incorporated that into their training and they are have been coming along very well."
Major said he's definitely done with competing and now he's more committed to coaching, especially with competitors like Elizabeth Hutchinson, who produced some tremendous talent in her training.
"I didn't really find her. She found me," said Major about the connection with Hutchinson. "Everybody in the gym and all of the elite boxers in the gym encouraged me to work with her and keep her interested.
"She was so gifted and had everybody in shock. She doesn't complain. Anything you gave her to do, she carried it 100 per cent. I'm so very happy to work with her."
Hutchinson is a 20-year-old who graduated from the Anatol Rodgers High School in 2016. She comes from an extensive background in sports, having competed in soccer, swimming, basketball, ballet and gymnastics.
"You give me a challenge and I'm not going to say no. I'm going to give it my best," she said. "You have to get into it and work hard at it."
She noted that the sport has been very challenging, but all she has to do is to stay committed and dedicated as she makes her debut as a 140-pounder.
"Boxing is a very clean sport. As my coach said, you can't play boxing," she said. "You have to give it your all. It's very disciplined and I seek that in life."
Hutchinson will be making her international debut as a member of the eight-man team from the Boxing Federation of the Bahamas that will be leaving on Thursday for Punta Gorda, Florida, to participate in the Bert Sugar Elimination Tournament.
The team will be coached by Major, assisted by federation treasurer Wellington Smith.
Federation president Vincent Strachan will be the team manager. Ther other boxers travelling are Patrick Joseph, Vashaun Johnson, Keith Major, Lennox Boyce and Carl Hield.
While elite boxers Boyce (64-kilogram) and Hield (69kg) are defending champions in their respective weight classes, Hutchinson (140-pounds), Joseph (130lbs), Johnson (133lbs) and Keith Major (165lbs) will be making their debuts as novice competitors.
The team is scheduled to return home on Monday. If they qualify, they will advance to the Bert Sugar National Championships, scheduled for November in Orlando, Florida.