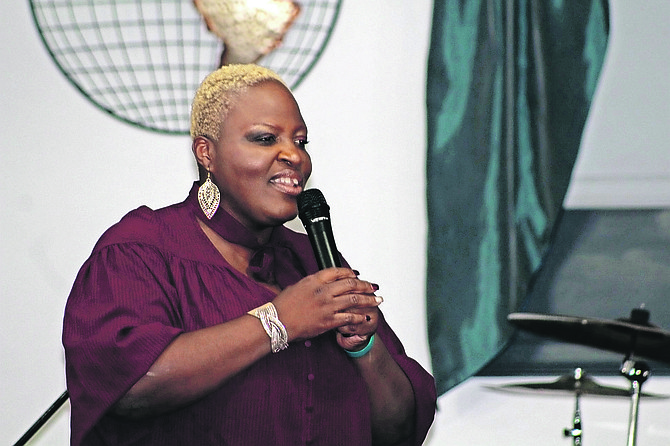 Face to Face
By Felicity Darville
When I got married on the beach last summer, a DJ and amplified instruments were out of the question. There were no electrical outlets nearby. It was an organic ceremony and I was in need of some organic sound. I had Michael Hoyte on steel pan, Gawain on saxophone, Anku Sa Ra on congo drums and vocalist Adrianna Munnings.
Adrianna had to rise to the occasion. She had to sing her heart out on a big, open beach space with about 100 guests, the sound of the ocean and instruments accompanying her at times. She performed beautifully. Her melodic voice carried in the wind and everyone could hear and enjoy. She sang songs like Maurette Brown-Clarke's The One He Kept for Me as I walked up to meet my groom, and Anita Baker's Sweet Love for our first dance, which we incorporated right into the ceremony. But this was only part of her magic. Before I even arrived, while the musicians were prepping, Adrianna was busy doing everything from helping with decorating to pinning boutonnières on the groom and his groomsmen. That speaks to her personality – a warm, kindhearted individual who loves to give.
The first time I met her, she had organised an exquisite night of love at St John's College auditorium and had brought together about a dozen singers and entertainers for what turned out to be a fantastic night. The show was a great production and as I watched her perform, I knew Adrianna's talent would take her far.
Now, two years later, Adrianna will have the opportunity to present her talent to people who could give her the opportunities she dreams of. Next month, Adrianna will be travelling to Atlanta to audition for a chance to perform on the popular talent television show, The Voice. The four-time Emmy award-winning show features superstars like John Legend, Kelly Clarkson, Adam Levine and Blake Shelton who coach undiscovered hopefuls in a fierce competition to discover who will be the next winning voice. Winners have gone on to have successful careers. Jamaican songstress Tessanne Chin won The Voice's season five.
Adrianna believes it's important to pave ways to success for yourself. "Well I'm proud to represent my country and I'm proud to be a citizen of The Bahamas," she said. "I know that we think the government should do everything, but the Bible says 'faith without works is dead'. We cannot sit around hoping things will happen; we have got to make things happen. That faith requires action and work.
"We have to stand even when we are misunderstood, judged, misused, criticised, rejected, or looked down upon. We have to make our own sunshine by the grace of God. As the saying goes, 'mama may have, papa may have, but God bless the child that has his own'. Never quit… a quitter never wins and a winner never quits. It doesn't matter how long it takes, you have to be persistent, you have to be patient, you have to grow, you have to develop, and you must be passionate and focused."
In preparation for her big audition day, Adrianna is eating healthy foods, exercising, sleeping well - and praying.
"I have been meditating on the word of God, reading up and just asking God for guidance and his protection and that I will be the light… that I get to the stage and that they will hear His voice through me and it would touch the soul," she said.
She learned the power of prayer from her grandmother, Ethlyn Outten. She woke her grandchildren up at five or six in the morning for prayer sessions. Each child would have the opportunity to pray. Adrianna remembers they were extensive prayers, where her grandmother would call the name of "everyone in the world" she knew to get a blessing. This is typical in Family Island life.
Adrianna was born and bred in Mastic Point, Andros to parents Carolyn Forbes and Earnest Munnings. She first attended Mastic Point Primary school before she moved to Nassau and attended Stephen Dillett and CW Sawyer Primary. For high school, Adrianna returned to Andros and attended North Andros High School. For senior high, she was back in Nassau and graduated at CC Sweeting Senior High. Altogether, this allowed for great exposure to both environments.
As a child, she loved to write and she loved helping others. Elders noted her caring nature, always wanting to help someone feel better or cheer someone up. Eventually when Adrianna found her talent, she was able to help and heal through her voice. Her uncle, Bishop Wilbert Rolle, had a ZNS radio gospel show called Hour of Redemption. At the age of seven, Adrianna made her first appearance on the show. Since then, Adrianna has never stopped singing. She participated in church and school choirs, honing her talent along the way. Today, her talents have expanded to include designing clothing and jewellery and baking.
In 2007, Sonia Brown, a mother agent introduced Adrianna to Craig Baldwin, a scout from the US who was a part of the Launch Showcase. After watching Adrianna perform, he gave her a call back. Later that year, she was on her way to Nashville, Tennessee on her very first trip overseas. She did not sign a contract but in retrospect, Adrianna says "nothing happens before the fullness of its time".
One of her fondest signing memories happened in the 1990s during the opening of the Atlantis Resort. She was singing in the Atlantis choir and she had the opportunity to share the stage with greats like Michael Jackson, Donnie McClurkin, and Bebe and Cece Winans.
"I sang His Eye is on the Sparrow and I remember Bebe Winans coming up to me and holding my hand," Adrianna shares.
"He said, 'This girl can sing!' Oprah filmed her show live from Atlantis. It was just huge. I enjoyed every moment."
Her career in hospitality continued at Sandals Royal Bahamian hotel as a room attendant. There, Adrianna went the extra mile by singing to the guests. If they were checking in, she would write a warm welcome card and if they were leaving, she would write another card wishing them all the best.
"I love to put a smile on people's faces," says Adrianna, "and I love when my music helps to bring joy, deliverance and healing to the heart, mind and soul."
Adrianna has a plethora of songs that she has written and is working on producing. As she prepares to audition for The Voice, she looks back on a long history of competing. In 2009, she was the first female runner-up in Bahamian Idol produced by Cedric Munnings. She was the winner at Fam Fest 2014 after a sing-off. She also won a contest named Island Star produced by Akeem Hanchell. She has participated in a number of other song competitions and has won some of them, including national song competitions. She has also hosted successful events of her own called Adrianna Munnings & Friends. She merits mentors like Chris Fox, Eva McCartney, and Keith and Allison Rolle for pushing her in her singing career. She is also thankful for support from producers like Todd Marshall, Lamont Sweeting, and Orval and Aldo Stubbs. She travelled to the USA with Fox and was able to record her song Sweet Love, Pure Love, True Love. She also travelled to Detroit, Michigan and recorded her song, Don't Give Up on Your Dreams. That's exactly what Adrianna is doing now as she prepares for The Voice.
Family is also high on Adrianna's priority list. She is close with her siblings Anissa, Antonique, Calvin and Eanest Jr. She also raises her nephew Cameron as if he were her own son. She is committed to her church, Jubilee Christian Ministries and enjoys praise and worship there.
"I am an overcomer," Adrianna says. "There is greatness inside of me. I am unique and special and I want to make a difference in the lives of others."
Search Adrianna Munnings on Youtube to watch her perform. For bookings, connect with her on Facebook, by email: soulofawoman78@yahoo.com or call 556-2091.