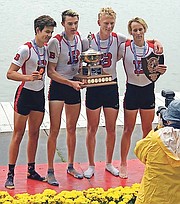 BAHAMIAN rower Ethan Stanhope led the Brentwood College School (Mill Bay, British Columbia) Senior Men's Quadruple Scull crew to win the gold medal in the Canadian Secondary Schools Rowing Association (CSSRA) Championship Regatta.
The big event was staged from May 31 to June 2.
With Stanhope setting a fierce pace in stroke seat, supported by Axel Ewashko, Jesse Harold, and Karl Draper, the crew posted the fastest time of the 19-crew strong field in their first heat of the regatta, and secured another victory in their semi-final to the A Final for the event.
The crew won the event – competing for the trophy known as "The Founders Event" – handily, covering the 2,000 metre course in a time of 6:26.9, with the Port Credit Secondary School coming in second, nearly 3.5 seconds behind.
St Michael's University School, Holy Cross, Shawnigan Lake School, and Claremont Secondary School also competed in the final. Stanhope and Jesse Harold also competed in the Senior Men's Double Sculls, completing their A Final in 7:00.18 and missing out on a medal by 0.5 seconds to Shawnigan Lake School.
Stanhope trains with the Nassau Rowing Club while at home in The Bahamas, and through the team at BCS, has become the most decorated Bahamian secondary school rower to date. Reflecting on the past school year and competitions, he said: "Our team set some ambitious goals at the beginning of the school year, trained hard, and learned a lot on the water together. "I am ecstatic we were able to achieve the goals we set, and ready to push harder next year. I am looking forward to competing this summer and getting even more high-performance race exposure and seeing how I perform internationally."
BCS Coach Brian Carr is proud of Stanhope's achievements and leadership on the team, especially his immediate impact, having only matriculated into 11th grade in September 2018.
Carr reflected: "Ethan's arrival at Brentwood just after competing at a Junior World Championships brought immediate impact. His work and results off season resulted in his selection in our top double and quad. Four local regattas helped Ethan and his two crews find the speed we saw at Canada's premier scholastic regatta. Our Head of Rowing, two-time Olympic bronze medallist, Laryssa Biesenthal, calls Ethan 'a racer who loves to compete and thrives when racing.'"
Nassau Rowing Club President Kyle Chea is proud of Stanhope's latest achievements, particularly having seen his entire journey as a rower.
"Four years ago, Ethan had never touched an oar. He watched his brother, William, training for Junior World Champs in Rio and got the bug. Nassau RC's Learn to Row Camp was instrumental in teaching him the basics and his attitude, drive for excellence, and competitive spirit, with excellent coaching staff and guidance along the way, set the foundation for his latest success."
Stanhope will be building on this season of high performance at the World Rowing Junior Championships in Tokyo, Japan, where he plans to represent The Bahamas racing the Men's Single. He and his brother, William – who trains with Florida Institute of Technology and recently raced at the Intercollegiate Rowing Association's 127th Regatta in Sacramento, CA – also plan to compete at the World Rowing Under-23 World Championships at the Nathan Benderson course in Sarasota, Florida.
Stanhope's parents, Steve and Michelle, beam with pride as they reflect on his hard work and achievement in the sport.
"We are proud of what the boys have accomplished in a short time through hard work, commitment and endless determination to reach their goals - all lessons learned through rowing and the friendships made during the constant struggle to reach the common goal," they said. "We are sincerely grateful for all of the support that has been given by all rowing coaches from Nassau Rowing Club, USA, Canada, family and friends over the past few years."
For more information on Nassau Rowing Club and its upcoming summer Learn to Row Camp, please visit NassauRowing.com, or see recent and upcoming activity on Facebook.com/NassauRowingClub and on Instagram @NassauRowingClub.