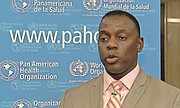 By NATARIO McKENZIE
Tribune Business Reporter
nmckenzie@tribunemedia.net
FOR the National Health Insurance Authority (NHIA) to expand the services provided under the National Health Insurance (NHI) programme $20m 'is not going to do it', according to Medical Association of The Bahamas (MAB) president Dr Marcus Cooper, stressing there must be a vision and serious commitment to improving the state of healthcare in the country.
Dr Cooper, who was a panelist on the recent Financial Voice forum, told Tribune Business: "I would say that healthcare in the public sector has been stifled a bit. I did read through the line items in the budget. I saw the subventions for the Public Hospitals Authority and NHI. NHI is probably the most impactful programme healthcare will experience in the history of the country. There is a budget of $20m for NHI. If you expect the national health insurance programme to expand then you have to increase the amount of money you allocate to NHI. If you expect to make a significant impact in the healthcare of the country then you have to commit to it."
He added: "The Minister of Finance was very clear and concise about some of the things the government is trying to achieve. He noted that they want to reduce spending, generate income and balance the budget. There seems to be a clear plan on how they do it. I don't see that kind of vision for any other industry. I definitely don't see it for healthcare."
Dr Cooper noted that while the Free National Movement's manifesto had given glimpses of a vision for healthcare, he stressed the need for greater commitment. "There is somewhat of a vision but I want to see it fleshed out. There should be a clear path for healthcare," said Dr Cooper.
Dr Cooper stressed he did not want to be seen as being critical of government when it comes to healthcare. "I want to be an advocate for healthcare, if that comes off as critical so be it. I'm not really critical, I just think we can do a lot better," he said.
The Public Hospitals Authority's budget has increased by $7m, up $223,455,825 from $216,000,000. "It's only $7m more than last year. I don't think there is going to be any earth-shattering developments in healthcare because we got $7m more," said Dr Cooper.
"I think the PHA will have to manage money very well and find ways to generate income to supplement what government is giving them. I don't think the government has to give them everything. They haven't been doing a great job collecting fees but I think there is a plan for that," said Dr Cooper.
Regarding NHI and the expanded benefits, he said: "I don't think $20m is going to do it. I think we are going to have to negotiate with government to help get additional funds to expand the NHIA and the services we are giving now."
As previously reported by Tribune Business, healthcare for the 206,000 people covered by the employer mandate will be financed through their annual $1,000 Standard Health Benefit (SHB) premium, NHI's minimum level of care, which is to come from a combination of 1.5 percent of their annual gross salary and employer contributions. This cost is separate, and on top of, the $130m that will be incurred by the Government (Bahamian taxpayer) in financing NHI coverage for the 160,000 not covered by the employer mandate.
The NHI Authority has said the $130m cost for those outside the "employer mandate" will be financed via "a diverse mix of revenue sources", one of which is NHI's "existing budget allocation" that stands at $20m. That leaves a further $110m to be located, but the NHI Authority said it would come from VAT paid on private health insurance premiums; a "reallocation" of resources from the Public Hospitals Authority's (PHA) existing $216m budget to cover services NHI will now provide; the $8-$10m that a "sugary drinks tax" may raise; and the scheme's own "risk equalisation" method.