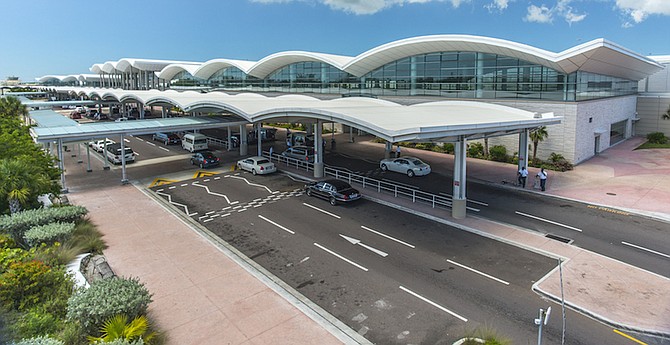 Major rehabilitation work has begun on Runway 09/27 (soon to be Runway 10/28) and Taxiway India at Lynden Pindling International Airport (LPIA). Nassau Airport Development Company (NAD) has partnered with local firm Bahamas Hot Mix to complete the capital project valued at just under $20 million.
The rehabilitation exercise will result in required upgrades to asphalt, extending the life of the runways at LPIA. Runway End Safety Areas (RESAs) will also be added to reduce the risk of damage to aircraft that overrun the runways and new LED approach lights will be installed to assist pilots during low visibility operations.
Over the past year, internationally recognized independent pavement consulting company, Golder Associates Ltd. (Golder), was contracted to work closely with NAD's Airside Operations & Public Safety team and to conduct pre-engineering, design, tender preparations and contract administration services for the runway rehabilitation project.
In April 2019, NAD initiated a Request For Tenders (RFT) to six qualified companies (four international and two Bahamian firms) to submit bids for asphalt paving services for the project. A total of four bids were received and submitted to the independent pavement consultant for evaluation including three international companies (United States, Canada and Costa Rica) and one Bahamian firm.
Bid
After all of the bids were carefully evaluated, Golder recommended that the contract be awarded to Bahamian asphalt paving company Bahamas Hot Mix (BHM). Golder determined that the company submitted the most competitive bid and met all of the specifications required to complete the project in the most efficient, cost effective and timely manner. In recent years BHM has successfully delivered Runway Projects at the following airports: Marsh Harbour -2006, Norman's Cay – 2013, Bimini -2015, Staniel Cay -2015, Hog Cay -2016, and Grand Bahama International Airport -2016. In addition, in 2009, BHM would have successfully remediated significant paving works on LPIA's main runway (14/32) after its reconstruction from 2004-2006.
Its team of 150 staff has repeatedly delivered Bahamas Civil Aviation Authority (BCAA) and Federal Aviation Administration (FAA) compliant Projects, utilizing the BHM International Organization for Standardization (ISO) accredited operating procedures for 9001 Quality Assurance and Control, 14001 – Environment, 17001 – Compliance Testing and 18001 – Safety. It is NAD's expectation that the LPIA airside pavement rehabilitation project will be delivered safely, to specification, on time and on budget.
On Sunday, LPIA began operating as a single runway facility and this is expected to continue over the next four to six months. Airport stakeholders have activated contingency plans that should assist with reducing impact to overall operations at the country's major gateway.
LPIA will continue to operate a safe and efficient airport, meeting all international safety standards.
Patience
NAD officials are advising members of the travelling public to exercise patience when arriving or departing from LPIA, as there will likely be delays resulting from the runway rehabilitation project. Motorists using the intersection of Windsor Field Rd. and Rock Plant Rd. are asked to approach the area with caution, pay particular attention to signage in the area and be aware of heavy equipment movement in the area starting this week. Crews will conduct work between sunrise and sunset.
Based on the projected timeline, NAD anticipates works being completed before the busy Thanksgiving travel period.
For the latest updates on the runway rehabilitation project, visit www.nassaulpia.com or follow @Nassau_Airport on Instagram and Facebook.