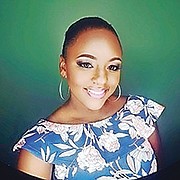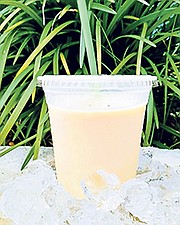 By ALESHA CADET
Tribune Features Reporter
acadet@tribunemedia.net
She has blossomed as a banker for the past seven years - a very structured a career centered around a desk in an office space - but Katie Wood has always been a free soul.
"I've always pushed myself to become a better version of who I am. My mind is always going; trying to figure out, how can I come up with a great idea," she told Tribune Woman.
And Katie thinks she may have just stumbled on her great idea in the form of a new beverage business venture which she is calling The Milk Man.
"Believe it or not, my husband Andre made a drink for me. I was like, 'Oh! How did you make this?', secretly wanting to steal his recipe and make it better, which I did. Later on we had our friends Xavier and Richie over to try it. Richie said, 'Oh, man, you should bottle this. I want to purchase,' and that was it. As of today, we provide delicious sky juice by the gallon and individual bottles. We also cater events and weddings. By the end of summer we are introducing a new drink, so please stay tuned. We are home-based but deliver to our customers," she said.
Katie hopes The Milk Man will become a popular juice brand in the Bahamas, one with excellent customer service.
"I love the fact that we get to create our business from scratch. This is our dream we are birthing for success. As an entrepreneur, I love the fact that I'm giving myself a performance appraisal, answering to myself whether I succeed or fail," said Katie.
Katie studied Mass Communications at the former College of the Bahamas in 2009 and thought that being a freelance photographer would have been the ultimate career choice. But now, a decade on, she has discovered a love for the culinary arts, and beverages in particular.
She said her husband, who is also her business partner, Andre Wood Jr, is her biggest influence and inspiration.
"Since we were dating, we always secretly challenged each other, whether in sports or cooking. Since being married two years now we continue to challenge each other to become better versions of ourselves," said Katie.
For the remainder of the year, she said, the team at The Milk Man will ensure the company's goals are met and that its customers are satisfied. The team looks forward to working with businesses as well for pop up events. For more information, readers are asked to contact The Milk Man at (242) 445-1049.