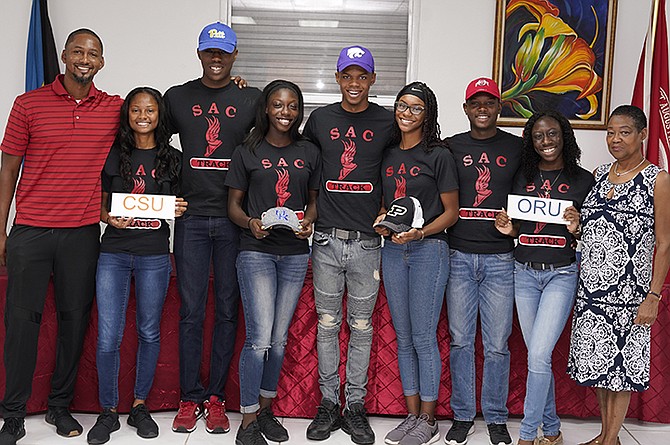 By BRENT STUBBS
Senior Sports Reporter
bstubbs@tribunemedia.net
St Augustine's College Big Red Machine's rich heritage can now boast of having an unprecedented seven student-athletes in the Class of 2019 all achieving Division One college scholarships.
The athletes, all coming from the Big Red Machine's track and field team, have signed to attend colleges in August, including Purdue University, Oral Roberts University, University of Kentucky and Clayton State University, where there are strong Bahamian presences.
Jason Edwards, the athletic director, and head track and field coach, said they have a great network with the various colleges and universities in the United States so it's just a matter of their athletics achieving the academic standards.
In the presence of principal Sonia Knowles, along with parents and family members, the student-athletes were introduced to the media during a press conference in the library on SAC's campus.
"From grade seven when they came in, they are a part of a special group," Edwards said. "They have all maintained their honour roll status and throughout the years they were pretty determined to get to college."
Edwards said the goal now is for these seven athletes to continue the SAC legacy overseas so that the door can remain open for others to follow in their suit.
"It's an awesome feeling. This doesn't happen every day," said Edwards of the student-athletes, who have all attained a grade point average of 3.4 or better.
"This is just a small fraction of the student-athletes going off. We have about 30-40 who have received academic scholarships as well. So we are very proud of their achievements."
• Vinajah Adderley
Age: 17
School: Purdue
University
Event/Personal best:
Triple jump (12.34m)
"I chose Purdue University because they are known for both their academics and athletics," said Adderley," who will be pursuing a degree in Kinesiology. "Going to Purdue, I feel I will be comfortable with all of the team-mates there."
As a member of the talented seven heading off to school, Adderley said she has known them for so long and they have all built a great relationship over the years.
At Purdue, Adderly said she's comfortable knowing that there are some Bahamians like head coach Norbert Elliott and a few athletes, who will enable her to make her feel right at home and accomplish her goals. "I feel like I need to stay on the honor status and improve my training," summed up Adderley, the daughter of Vinnah and Daniel Adderley.
• Raymond Oriakhi.
Age: 17.
School: University of Pittsburgh.
Events/Personal best: 400m (47.75).
"I chose the University of Pittsburgh because I like the campus and I also like the coach, who made me feel like he can help me to succeed," said Oriakhi, who will be studying mathematics. "I feel I will be able to perform well there."
Having graduated from SAC with high honors, Oriakhi said it's his desire to maintain that standard at Pitt. Athletically, he would like to improve and better his times.
"Being in this group, it was a lot of fun competing with them over the years. I will be sad to be leaving them, but I was glad that we are moving on to college," said Oriakni, the son of Maria and Raymond Oriakhi.
• Lakelle Kinteh
Age: 18.
School: Oral Roberts University
Events/Personal bests: 100m (11.79) and long jump (5.74m).
"When I went on my visit to Oral Roberts University, one of the main reasons I chose the school was because of their great academic programme," who will be studying Bio-medical Science.
"The other reason I chose the school was because of the warm welcoming environment and a couple of my team-mates are there and so it made me feel good to know that my parents are confident that I will be in a great environment."
Kinteh, the daughter of Udell and Lamin Kinteh, said she would like to lower her performance in the jumps, break a few school records and maybe even some Bahamian national records.
"Sitting here with this group of elite athletes from SAC, it has definitely been a blessing because it's not always that all of us can go to a D1 school and compete in a sport that we love on a free scholarship," she added.
• Oscar Smith
Age: 17.
School: Kansas State University.
Events/Personal Best: 110m hurdles (13.71); 400m (53.90).
"Kansas State, from what I found out in doing my research, has one of the best computer science programmes in the nation," who will be studying Computer Science.
"So I feel as though it will help me well in my area of studies. Outside of the classroom, I just hope that I can just better my times and just become a better athlete on the whole."
With a diverse selection of athletes from around the world, Smith said he's confident that his involvement with the group of athletes at SAC will help him in his transition.
"Being a part of this group was truly an honor because you can't come across so many people who can achieve 3.0-grade point averages and still do what we do on the track," said Smith, the proud son of Charlotte Atwah.
I feel what we have accomplished will do a lot for this country in encouraging the young people to do track and field, which I personally feel is a way out and to get a scholarship to study free and compete in the sport that I love."
• Megan Moss
Age: 17.
School: University of Kentucky.
Events/Personal best: 400m (53.06).
"I chose the University of Kentucky because it has a great science programme for me to continue my science programme as well as continue my athletic career," who is expected to student Human Health Science.
"The facilities in academic and athletic are stellar and the coaching staff and the team-mates of the team are so friendly and warm. It's been a welcoming environment for me."
Moss said her goal is to improve her times in the 400m and contribute to the team as best as she can and study. She said she felt the environment she came out at SAC will help her to accomplish those goals.
"I am honored to have been a part of this amazing group of student-athletes to represent our country and our school," said Moss, the daughter of Tito and Nekeva Moss.
She lamented that she can't wait to get started under the tutelage of coaches Rolando Greene and Debbie Ferguson-McKenzie and competing alongside St Anne's graduate Devine Parker.
• Adrian Curry
Age: 18.
School: Ohio State University.
Events/Personal best: 100m (10.42).
"Choosing Ohio State was an easy decision, considering that I was the last of this group to make the decision," said Curry, who will be majoring in Kinesiology. "It's a good school. I like it when I visited it. They gave me a warm welcome.
"I feel as though I can build a strong and good relationship there and that will also help me. I have a fellow Bahamian there in Devonte Mott, who I have a close relationship with, so I feel as though he would guide me on my path to my athletic and academic success."
Carey, the son of Ronique and Adrian Curry, said he feels it's an honor to be sitting with his fellow SACers because not many athletes got to compete and secure athletic scholarships to Division One schools as they all did.
• Sasha Knowles
Age: 17.
School: Clayton State University.
Events/Personal best: 800m (2:29.00).
"I chose Clayton State because of their biology programme and just based on what I heard, they have some very good labs and I hope to do her very best," said Knowles, who intend to student biology.
Knowles, the daughter of Angelique and Glen Knowles, said she's thrilled to have been a member of this graduating class from SAC. She hopes that she can continue to excel under quarter-miler Chris 'Fireman' Brown, now an assistant coach.

Tito Moss, a former distance runner for SAC and now an assistant coach, said he was very pleased with the achievements of the student-athletes, especially his daughter, Megan Moss.
"I'm proud, being an alumni of SAC and the parent of Megan Moss," he stressed. "It's great to see the family legacy and the school legacy of producing great student-athletes."
Moss said he's even more thrilled that she will be working with Ferguson-McKenzie and Greene. Hopefully, he said, she can grace the stage with Olympic champion Shaunae Miller-Uibo as a part of the 4 x 400m relay and the 400m.
"Her ultimate goal is to be a doctor. Track and field is just a stepping stone," he pointed out.
He added when the students all first came together, they had developed a very talented class of athletes, who all made their contributions in their various disciplines.
Charlotte Ahwah, the mother of Oscar Smith, said her son has all of the attributes to succeed.
"He's very driven and very competitive," she pointed out. "So I have no quips that he will excel at Kansas State University. "He's focussed so the sky is the limit for him.
"Academically, as a SACer, I'm very proud of his accomplishments. He has excelled way beyond my expectations. He maintained his status as a 110m champion. He was supposed to compete at Pan Am this year, but he shut it down after Carifta and now we're getting ready for Kansas State University."