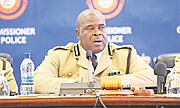 By RICARDO WELLS
Tribune Staff Reporter
rwells@tribunemedia.net
POLICE Commissioner Anthony Ferguson yesterday moved to end debate over crime statistics in the wake of another US State Department crime advisory. He warned that despite the positive trends Bahamians still needed to "clean the place where we live."
Responding to questions on the recent level two warning while on a walkabout of several high crime areas to mark the start of police month, Commissioner Ferguson urged concerned Bahamians to do their part to clean up the country.
He said such a collective effort by police and communities would assist in ensuring the Bahamas is safe for residents and visitors alike.
"First of all, I learned that you must keep your own doorstep clean before you go elsewhere," he told reporters. "So exactly where we are today, we must clean the place where we live. If we are doing a good job at that, then we can go elsewhere and help with that."
Commissioner Ferguson said members of the Royal Bahamas Police Force were "very aware" of what was being said, insisting that they were doing everything possible to make the entire country safe.
"Every single Bahamian, every single person who would visit our shores, not just one set of people," he added. "I think if we start to do a good job with ourselves, then we can do a good job with other people."
When asked by reporters to speak about the argument being led by government officials that lower crime statistics should equate to a safer outlook for tourists, Commissioner Ferguson remarked: "I am not going to speak to what people think."
He continued: "As the Commissioner, I have the statistics. We live in The Bahamas, you see what is happening. I think we have to judge it from there."
The State Department's warning on Monday noted that violent crime such as burglaries, armed robberies, and sexual assaults were common in tourist areas in New Providence.
The alert also warned that the vast majority of crimes occurred in the capital and Grand Bahama, but added the Family Islands were not crime free.
As in previous crime warnings, the alert also prohibited US government personnel from visiting the Sand Trap area in Nassau due to crime and criticised activities involving commercial recreational watercraft, including water tours, stating that they were not consistently regulated.
Visitors were also urged to exercise caution in the areas of Over-the-Hill and the Fish Fry at Arawak Cay.
In response, Tourism Minister Dionisio D'Aguilar said there would be push-back, claiming the lowering of crime numbers should have positively affected the State Department's outlook,
In a further response Wednesday, National Security Minister Marvin Dames contended the 2018 crime statistics were the best The Bahamas has seen in more than a decade and insisted numbers continue to trend down this year.
Mr Dames said: "Every country has the right to issue an advisory. A country issues an advisory based on whatever they feel that their citizens ought to know.
"We would have crunched some numbers during 2018 and from the numbers we would have crunched of matters reported to the police… Any crime against a visitor is one too many but we feel like those numbers can stack up against any country almost anywhere the world-over.
"We will continue to work with countries from around the world to see how we work together to collectively focus on the things we need to focus on to ensure that we meet a point where we're all happy."
In a subsequent statement, the Ministry of Foreign Affairs said the warnings from the US to its citizens were in line with recommendations the Bahamas also gives to its citizens travelling abroad.
Further noting that local law enforcement had made strides in the fight against crime, with a reduction in serious crimes like murders, armed robbery and shopbreaking.
"There has been and continues to be collaboration between the Ministries of Tourism and Aviation and Transport and Local Government with the Port Department to address needed changes in regulation and enforcement to ensure safe and responsible operation of commercial recreational water sport and excursion tour companies," the statement said.