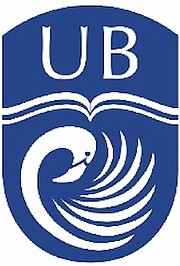 By RIEL MAJOR
LENO Corporate Services Limited has donated $250,000 to the University of the Bahamas' School of Business.
At a press conference yesterday, Leno Founder/president and executive director Sean Longley said it was a pleasure to join with UB to establish the Leno Group of Companies Ltd endowed educational fund and emerging leaders programme.
Mr Longley said: "This demonstrates Leno's commitment to students of the University of The Bahamas. The gift of a quarter of a million dollars over the next ten years illustrates the deepening of our commitment to the university and showcase our partnership with UB in a more substantial way. It is our intention that this fund will propel the success of students in your School of Business.
"We are happy to offer internship and employment opportunities to deserving students while also having our scholars participate in the emerging leaders programme at the university, thus presenting the opportunity for these students to form themselves into more well-rounded individuals that will constitute to our national building.
"Leno has been fortunate to be able to sponsor a number of varied initiatives and partnerships with UB and other organisations focusing upon youth empowerment, financial literacy, and sports. On behalf of the board of directors, my wife and myself we thank the university for helping us to make this day possible."
Dr Rodney Smith, UB president, pictured below, said the endowment will fund entrance or scholarship awards to be offered to full time undergrad students in accounting, finance, business, economics or marketing.
Dr Smith said: "Leno has generously committed to a donation of $250,000 for this endowment. Demonstrating they believe that an investment in education is one of the smartest for the development and success of our entire country.
"At UB our mission is to advance and expand access to higher education, promote academic freedom, drive national development and build character through teaching, learning, research, scholarship and service. There is no way we can do all of this alone. I would like to personally thank the Leno Group of Companies for believing in building our university and supporting education...thank you so much."
Dino Hernandez, UB vice-president of institutional advancement, said this donation will have a direct impact on UB and the quality of life of its graduates. He said: "What you have seen here is a demonstration of partnerships that undergo the progress for the University of The Bahamas and The Bahamas at large.
"The university's growth and development requires tangible support and partnerships of our stakeholders . . . and friends who have a deep and abiding belief in the role of higher education and transforming the country for the better.
"I would like to thank our development team especially Mr Mitchell for nurturing this relationship with Leno and other donors as we continue to develop the culture of giving in the Bahamas...thank you Mr and Mrs Longley of the Leno Group of Companies."