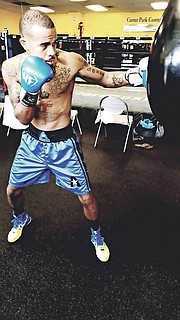 By BRENT STUBBS
Senior Sports Reporter
bstubbs@tribunemedia.net
AFTER a successful professional debut last month in Mexico, Rashield Williams is expected to return to the ring on March 22 when he is slated to take on Jamaican native Javaune James.
The 29-year-old Williams, fighting out of Miami, Florida, where he has been trained by Norman Wilson, will take on James, who is 24 with a 2-0 record. James now fights out of Miami, Florida, under the American flag.
"The type of fighter I'm taking on, he's very active. He throws a lot of punches," Williams said. "So my plan is to just out box him. I'm sure I'm the stronger guy so I can break him down at some point."
Since his first fight when Wilson said Williams was a bit anxious to fight, stopping Carlos Monroy in the first round, Williams said he's been doing a lot of drills and sparring to make sure that he's fully prepared. "Right now, that first fight was good, but we have a lot more coming," Williams said. "We have to get past this month and then I can prepare for the third one at the end of the month. "They have another show in Mexico, so I'm hoping to go back and pull off another one."
In making the transition from the amateur ranks where he fell short of qualifying for the Olympic Games, prompting him to turn pro this year, Williams said he's content with where he's at. "I wished I had made this decision a long time ago," he stated. "As a professional, you get to build your own career where you can make a living off it.
"As an amateur, you are just fighting for your country and travelling. It was good because it benefitted me in the long run. It made me a better fighter, fighting among world-class fighters."
Now that he's in the pro ranks, Williams said everything is going as he anticipated. "We're in the countdown right now," he said. "We are putting in a lot of sprints and a lot of sparring. So I hope to be ready for my next fight. I want to make it 2-0."