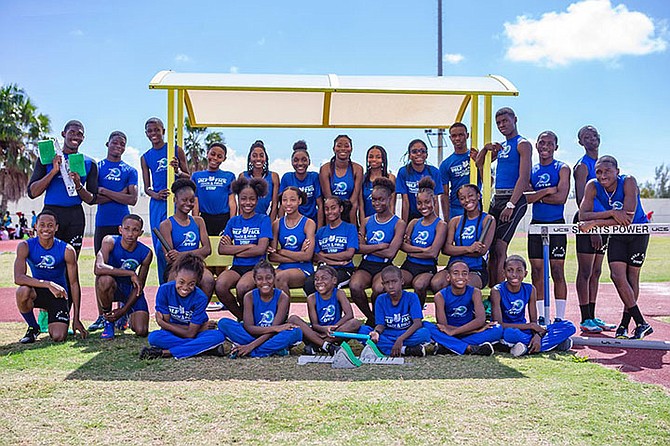 THE second annual Wolfpack Classic, to be held in honour of coach Peter Pratt, is all set for this weekend at Thomas A Robinson Track and Field Stadium.
The meet is scheduled to begin at 9am on Saturday and will serve as a qualifier for the CARIFTA Games, scheduled for April 20-22 in the Cayman Islands.
"We are also pleased that coach Peter Pratt, renowned Bahamian athlete and coach, for accepting the opportunity of naming this meet in his honour for his achievements, investments and continued support of track and field, myself and my stable of athletes," said club president and head coach Larry Clarke.
"We are also grateful to corporate Bahamas, and our parents association of the Wolfpack Club, who saw their time, talent and resources, all necessary to realise a successful meet. We have paid attention to detail and are attempting to improve on the success of last year's meet."
Clarke said the Wolves welcome additional clubs participating this year to their hunting turf.
"We have by way of special request deviated ever so slightly on our meet schedule to accommodate distance events," he said. "We thought to be inclusive in this way as our federation seeks to develop their talent in this discipline. "This meet also marks bitter sweet moments as it is also an indicator that we are about to climax yet another track season. In reflection we embrace new persons to our coaching staff as members of previous coaching team focus on additional matters that will benefit the club in the long term."
The Wolfpacks are welcoming coach Sears and coach Riley to their coaching team, which Clarke said is already full of testosterone. He noted that they welcome the estrogen to bring balance to the club.
"This season also makes us acutely aware that we lose several senior members of our club, who demit the local scene. Five more of our kids will join our alumni body," he said.
"We wish Joel Johnson, Aisha Johnson, Ethan and Amber Taylor and one of our last remaining original eight members Daniel Turnquest, every success," he stated.
"The philosophy of our club is hard work always pays off. Our mantra has been excellence in academics and on the track leads to a success story.
"We are pleased that all our graduating athletes and all of our alumni have matriculated to good division one universities in the United States or the University of the Bahamas on scholarships."
Clarke congratulated Aisha Johnson for signing with the University of New Orleans.
He added that their most senior alumni has applied to medical school and awaits acceptance for September.
"Progress reports have confirmed that all of our alumni are excelling on and off the track," he said. "We continue to strive as our vision and mission commissions us to do. "We trust that our track classic is indicative to the strides made. Enjoy every exhilarating moment of this year's meet as we showcase the best talent and prowess of the top athletes in this little but powerful nation."