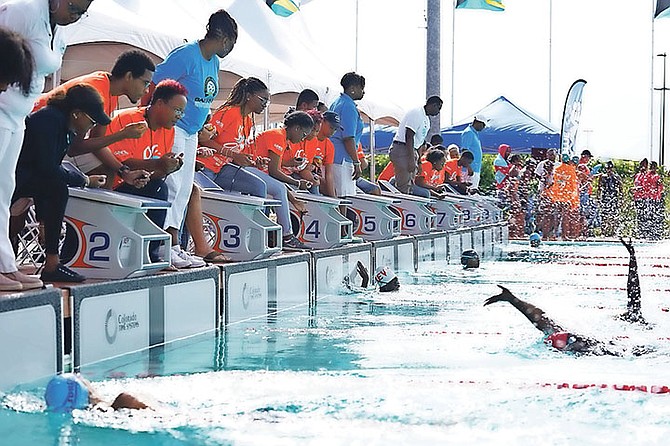 LOCAL swimmers gained a competitive edge during qualifying races for regional and global swim competitions as they participated in the Alpha Aquatics Invitational at the Betty Kelly Kenning national swim complex over the weekend.
"This event was a great opportunity for our team members," said Jorge Rodriquez, head coach of Alpha Aquatics.
"Each competitor can appreciate that in order to be successful in the pool, dedication and discipline are critical in pursuit of becoming a swimming champion.
"We know that Alpha Aquatics is the swim club of choice for the most talented swimmers in the Bahamas.
"This event showcased their competitive abilities and motivated more of them to improve their skills so that they are able to represent the Bahamas in global swimming competitions."
Competitors from the Turks and Caicos Islands also attended the meet and were given an opportunity to demonstrate their athletic skills.
Celestial Darville, president of Alpha Aquatics, highlighted that the meet was a family affair designed to promote a healthy environment of competition and camaraderie.
"We were thrilled to welcome swimmers from Turks & Caicos Aquatics, International School of Turks & Caicos and Surfside Ocean Academy," Darville said.
"The competitiveness demonstrated from their teams show some of the Caribbean region's talent pool. "This international event impresses upon our swimmers that they must push harder to outperform their competitors.
"We must prepare Alpha Aquatics swimmers to take the lead in representing the Bahamas at CARIFTA in Barbados, the FINA World Championships in Korea and ultimately the Olympics in Tokyo in 2020."
The competition created a spirited atmosphere with the enthusiastic support of family and friends cheering on swimmers, including parent Doretha Knowles.
"This event was really exciting because it gives my child the exposure that places the spotlight on her talents," Knowles said.
"It was really rewarding to experience the excitement and be surrounded by so many other parents and family members who genuinely want the best for their children."
According to Darville, the mission of Alpha Aquatics speaks to building character and self-discipline, inspiring camaraderie and promoting civic mindedness and excellence.
"Our meet successfully showcased our mission and we all couldn't be more elated," she said.
"With the continued support of our visionary and dynamic Board of Directors, along with good corporate partners like Corner Trader Bank and others, we will continue to host events of this magnitude to help our swimmers achieve their best performances and proudly represent the Bahamas globally."