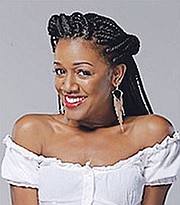 By NEIL HARTNELL
Tribune Business Editor
nhartnell@tribunemedia.net
A 50-year music industry veteran yesterday slammed the Ministry of Tourism's failure to treat a former Bahamian beauty queen with "fairness, dignity and respect" in their copyright battle.
Ellis Rich, a music publishing entrepreneur and former Performing Rights Society (PRS) chairman, said he was unsure whether he would "ever truly understand" why the ministry had spent more than $500,000 in legal fees to crush Khiara Sherman's claim as opposed to "treating one of its own citizens" properly from the start.
Mr Rich, who has been retained as an expert witness by Ms Sherman, in a letter to the south Texas federal court rejected claims by the Ministry of Tourism and its attorneys that the recent promotional contract with Grammy award-winning rock icon, Lenny Kravitz, was irrelevant to its dispute with the former Miss Bahamas Universe winner.
Tribune Business revealed yesterday how the Ministry of Tourism's attorneys were arguing against production of the licensing deal reached with Mr Kravitz on the basis the commercial terms are "highly sensitive and confidential because this is an ongoing marketing campaign for The Bahamas".
They also argued that the gulf in status between Ms Sherman and the multi-platinum Grammy winner, who has sold millions of albums worldwide, meant the licensing deal was simply inappropriate to help determine what the former beauty queen-turned-songstress should receive if the US court ruled that she was due royalties for use of her song, Fly Away With Me, in the Ministry of Tourism's advertising campaigns.
Mr Rich, though, countered that the terms of the Ministry of Tourism's deal with Mr Kravitz were "highly relevant to determine a fair market licensing fee" for Ms Sherman's song given that the two works were both used for the same purpose - to promote The Bahamas to visitors via the same mediums in the US.
Accusing the Ministry of Tourism of "focusing far too much on Mr Kravitz's fame", Mr Rich even argued that Ms Sherman's song was "a far better connection" with the Bahamian tourism product than the rock icon's work, and that "you can almost feel the sand between your toes" when you listen to it.
Mr Rich, who has owned his own music publishing house since the 1980s, having formerly worked at EMI, said he has previously given copyright seminars in the Caribbean with Stevie Wonder's European manager and been involved with licensing negotiations for groups such as Blondie and Little River Band.
"I agreed to serve in this case at a substantially discounted rate," he told Judge Nancy Atlas, "because I believe that Ms Sherman has not been treated by The Bahamas Ministry of Tourism with the fairness, dignity or the respect she deserves.
"Speaking with Ms Sherman, you would never know that she comes from what I understand is one of the poorest neighborhoods in Nassau (Culmersville). She was raised by a single mother, the first in her family to graduate university, and she came to the US in hopes of making a better life for her and her family.....
"Perhaps the most tragic part of this lawsuit, from a human perspective, is that Ms Sherman clearly loves The Bahamas with a deep and uncompromising passion," Mr Rich continued. "Why the Ministry would pay its American lawyers more than half a million dollars in legal fees, rather than simply treat one of its citizens with dignity and respect from the outset, is something that I am not sure I will ever truly understand.
"I find many of the statements by the Ministry's lawyers to be an affront to Ms Sherman's dignity as an artist. Far from being unknown, Ms Sherman is well-known in the Caribbean and was named Miss Bahamas in 2009. Her songs are played on Bahamian radio several times per day. She has more than 100,000 followers on social media. Her songs posted to YouTube have hundreds of thousands of views."
Based on his 50-year music industry career, and experience in the Caribbean, Mr Rich argued that the license deal between the Ministry of Tourism and Mr Kravitz was "highly relevant to determining a fair market licensing fee" for its alleged unauthorised use of Ms Sherman's Fly Away With Me song.
He added that the fact both tracks were used to promote tourism, via the same mediums and in the US, were an important guide to determining what the ex-beauty queen may be due if the Texas court found in her favour.
"The Ministry focuses far too much on Mr Kravitz's fame as compared to that of Ms Sherman," Mr Rich argued. "Mr Kravitz obviously commands a premium for his outstanding work and accomplishments.
"However, a licensing fee depends largely on the purpose of use, the medium and the unique connection of the song to the intended product. While Mr Kravitz is clearly more internationally famous, I find Ms Sherman's song to be a far better connection between the intended product (tourism in The Bahamas) and the tone, tense and soul of Ms Sherman's Fly Away With Me."
He told the judge: "I trust that when you hear it you will agree with me that you can almost feel the sand between your toes when you listen to it. These two factors counter-balance each other and make a focus on fame alone misplaced.'
Mr Rich said that while Ms Sherman would "probably command a smaller licensing fee than Mr Kravitz, even considering the more desirable nature of Ms Sherman's song itself, that does not mean that her fee would be small or that an agent negotiating on her behalf would not use the Kravitz license as a guide during negotiations".
He added that the fee paid to Mr Kravitz would "unquestionably" help the south Texas court determine what was due to Ms Sherman, as well as inform his witness testimony - including the deposition he will give to the Ministry of Tourism's attorneys next Friday, March 29, in New York.