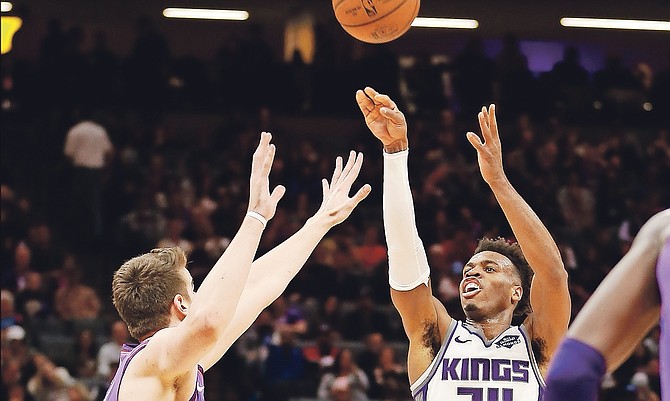 By RENALDO DORSETT
Tribune Sports Reporter
rdorsett@tribunemedia.net
IT was a game of milestones for both Buddy Hield and Deandre Ayton in their fourth and final head-to-head matchup of the 2018-19 NBA regular season.
Hield set the Sacramento Kings' single-season three-point field goals record in a 112-103 win over the Suns at the Golden 1 Center in Sacramento, California, on Saturday night.
Hield finished with 25 points, shot 7-14 from three-point range, and also added seven rebounds, while Ayton finished with 19 points and 11 rebounds on 9-16 shooting from the field.
Meanwhile, Ayton tied a Suns rookie record with his 37th double double of the season with 19 points and 11 rebounds.
"It feels good," said Hield. "My teammates found me in good spots. Some ones I had I wish I could get back but it's a part of the game. It was fun, man. Peja's been a big part of my success this year. He left a mark on this franchise, its pretty big, it's something special. Hopefully I get to keep it for many years but there is always someone else that will come up and break records.
Stojakovic currently serves as the assistant general manager for the Kings.
Hield credits his approach to the season for his improved, more efficient output. He has a total of 245 three-point field goals on the season. He currently has 569 for his career.
Portland Trailblazers guard Damian Lillard has the record for the most three pointers over the first three seasons of a career with 599.
Hield is averaging 20.8 points on 46.1 per cent from the floor and 43 per cent from three-point range. He also averages 5.1 rebounds and 2.5 assists per game in just over 32 minutes.
"It all started off starting the season strong and embracing my role. I know what I'm capable of doing and I just had to take advantage of it. My mom always said when you get an opportunity take advantage of it because they don't come around too often. When you get confidence you just keep going and I'm a guy that drives off confidence," Hield said. "There may have been a time I wasn't getting the minutes I wanted, but I knew I was one of the best shooters in the league. I worked for it, I showed them I can do it and it's nothing they can take back from me now."
The Kings regained a .500 record and improved to 36-36. Playoff chances look bleak as they remain 5.5 games behind the San Antonio Spurs for No.8 in the West, but are mathematically still in the hunt.
The Suns fell to 17-57 on the season.
On December 4, the much anticipated first NBA regular season game featuring two Bahamian born players quickly turned into a lopsided win for Hield and the Kings.
Hield scored 20 points in just 18 minutes, while Deandre Ayton had 10 points and nine rebounds in the Kings' 122-105 win over the Suns at Talking Stick Resort Arena.
In game two on January 8, the Suns exacted revenge with a 115-111 win, also at Talking Stick. Ayton finished with 17 points and 12 rebounds while Hield had 16 points, four rebounds and made 3-5 three pointers.
The third regular-season matchup between the Kings and the Suns went to the Kings advantage as the teams continued to trend in opposite directions.
Hield finished with 18 points, six rebounds and made three three-pointers in the Kings 117-104 win over the Suns at the Golden 1 Center in Sacramento, California.
Ayton finished with 16 points, nine rebounds and shot 8-10 from the field.