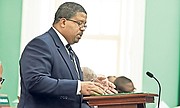 By NATARIO McKENZIE
Tribune Business Reporter
nmckenzie@tribunemedia.net
The deputy prime minister and his Opposition counterpart yesterday renewed their verbal battle over whether the Government will hit its 2018-2019 fiscal objectives.
Both K P Turnquest and Chester Cooper, the Exuma and Ragged Island MP, focused on the parts of the nine-month "fiscal snapshot" and budgetary report that best supported their case to blast each other's party over management of the public finances.
Mr Cooper focused on the Government's revenue yield for the nine months to end-March, and the likelihood it will miss its full-year $2.651bn target, given that just 63.7 percent of that sum had been collected with three-quarters of the year having been passed.
But Mr Turnquest, not surprisingly, focused on the Government's $40m budgetary surplus for the January-March period, which had helped to slash the deficit for the first nine months to $129.2m and created the possibility for it to hit its $237m year-end target.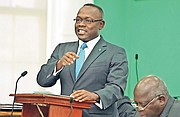 The deputy prime minister branded Mr Cooper as "the modern day Rip van Winkle", likening him to the fictional character that fell asleep for 20 years only to wake up and find the world much changed. He argued that his Opposition counterpart had slept through the Christie administration's five years of deficit spending that added $2.3bn to the national debt, which the current administration was now seeking to address.
Yet Mr Cooper said it was "astounding" that the Government was so far behind its revenue projections with just three months left in the 2018-2019 fiscal year, describing this as "a failure of epic proportions".
"The more fiscal snapshots the Government releases, the clearer the picture of failed policy and bad administration by this government becomes," he blasted. "It is astounding to learn that the government is $1bn behind its projected revenue target with only three months left in the fiscal year. It's inconceivable that this administration budgeted so poorly.
"That Value-Added Tax (VAT) was raised by 60 percent, yet the government is on track to fall short of its forecast collection by hundreds of millions of dollars, is a failure of epic proportions. It is a failure that, with three quarters of the year passed, only 63 percent of revenue has been collected."
Mr Cooper continued: "The minister of finance [Mr Turnquest] knows full well that there is no windfall expected in the last few months of the budget year that will get them close to the target amount. It is clear, and apparent by their own admission, that this administration botched implementation of [12 percent] VAT and other taxes due to poor modelling and a lack of consultation.
"Whose fault is it that hotels and others were given a grace period to implement VAT because the government failed to understand many of their commitments were made with the understanding that VAT would not be hiked?"
Mr Cooper accused the Minnis administration of "shamefully piling taxes and fines on the backs of the poor and a struggling middle class to simply appease ratings agencies and the IMF".
"The FNM is disgracefully starving capital expenditure, and neglecting infrastructure, in order to hit a rigid deficit target that no one in this country asked for," he said. "This madness is depriving Bahamians of needed services, all to mask the failure of this government's revenue collection efforts.
"Now the minister of finance suggests that next year, the budget targets are expected to be met. If they were so off with this budget exercise, why on earth would anyone believe they will craft a more realistic budget next year?
"There is also an inherent disingenuousness in the characterising of the Grand Lucayan investment as an equity acquisition," Mr Cooper continued. "We paid out cash and incurred debt through a mortgage with Hutchison to essentially nationalise a hotel that is losing money. The sale is nowhere near imminent and will not be complete by the end of this fiscal year."
Mr Turnquest, speaking ahead of yesterday's Cabinet meeting, said: "We have not reached our goal yet. Obviously we have to wait for the full year, but we are certainly tracking in the right direction. We are 51 per cent down on the deficit year-over-year.
"We continue to be very cautious about making any bold statements in this regards because, again, we still have three months to go, even as we go toward the hurricane season. We looked at our trends and we have done our forecast, and we do believe we will hit our [deficit] target for the end of year and put us on the right path to realising our three-year consolidation plan and to deliver a turnaround in our fiscal outlook going into the future."
He continued: "This has been an exercise about changing the way we think about our government finances and spending, and putting in place the fiscal laws and rules that will cause discipline.
"It is a bit of a cultural acclimation, if you will, to operating in a disciplined environment. We want to ensure that any programmes and policies we implement are backed by sound fiscal analysis so we don't end up with the runaway spending."
The government, though, has collected just 55.6 percent of the 2018-2019 full-year VAT revenue forecast during the first nine months. Mr Turnquest told Tribune Business earlier this week that its major revenue-raising mechanism had performed "in line with projections" during the second and third quarters despite the government's data giving every indication that full-year targets will not be met.
Mr Turnquest struck a harsher tone in a statement released later in direct response to Mr Cooper's remarks. "The Opposition spokesman for finance, Chester Cooper is the modern day Rip Van Winkle," he charged. "Having been asleep through the disastrous run of the Christie/Davis team, [he] is now awake and suddenly talkative regarding the fiscal affairs of the country.
"Because he was asleep between 2012 and 2017, he clearly missed the billions of dollars in deficits occasioned by the Christie/Davis team. He missed the four downgrades. He missed the failure to implement fiscal responsibility legislation. He missed their utter lack of effort in turning the country around."
Mr Turnquest argued that his opposite number was now witnessing a turnaround, with fiscal transparency provided through the quarterly snapshots; rating downgrades having dried up; and a reduction in the fiscal deficit despite the Government having to pay off some $360m in unfunded arrears.
"After his long five-year slumber, where he apparently had to have missed the chaos and recklessness of the former administration, he is now awake in a different Bahamas with an administration that is embracing accountability and transparency in unprecedented ways," Mr Turnquest said of Mr Cooper.
"He has an administration that is paying its bills. He has an administration that is telling the people regularly where their money is going."