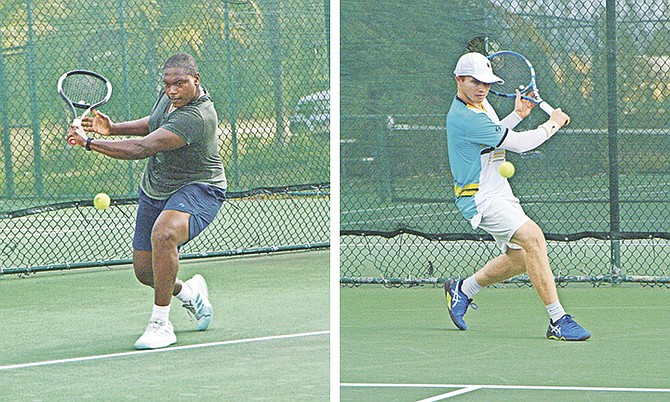 By BRENT STUBBS
Senior Sports Reporter
bstubbs@tribunemedia.net
BAKER Newman and Philip Major Jr clinched the final two spots over the weekend at the National Tennis Centre to make up the Bahamas team for the American Zone II Davis Cup tie.
The duo finished on top of the standings at the Bahamas Lawn Tennis Association's final trials after both Kevin Major Jr and Spencer Newman were unable to play on Sunday due to injuries sustained during the two gruelling rounds on Saturday.
By virtue of taking the two top spots in the final trials, Baker Newman and Philip Major Jr join Donte Armbrister and Justin Lunn, who won the top two spots respectively at the BLTA's Giorgio Baldacci Invitational, held at the NTC in December.
The team will be heading back to Costa Rica beginning June 17 when they will play a match against 10 other countries in two different pools.
"We look forward to the team doing well as they did last year," said BLTA president Darnett Weir, who watched as the team won their pool and was promoted to Zone II, only to remain in zone III after this year's tie was reconfigured.
"The dynamics of the team has changed slightly with a new young player in Donte Armbrister, but we still have Justin Lunn, who has played about two times on the team, along with number two player Baker Newman and Philip Major Jr, who did exceptionally well last year."
Weir said she's confident that Marvin Rolle, who will serve as the team captain, will get the team ready to once again emerge out of their pool as champions in a repeat performance from last year.
Here's how the final trials played out this weekend:
Sunday
Baker Newman won over Spencer Newman (match did not play due to injury).
Philip Major Jr won over Kevin Major Jr (match did not play due to injury).
Saturday
Baker Newman def. Kevin Major Jr 3-6, 7-6 (1), 10-5
In staying undefeated, Baker Newman took advantage of a slight left ankle injury that Philip Major Jr sustained when he attempted to go after a drop lob ball at the net in the first set.
Major Jr was holding a commanding 4-0 lead but on his service game, Baker Newman rallied on the next play to get an ace as he held serve to get on the scoreboard at 4-1. They both held serve the rest of the set.
However, in the second set, Baker got a break to go up 3-2 and after Major Jr got the break back for a 6-5 lead. Baker returned the favour to tie it at 6-6 and forced the tiebreaker where he went on to win.
The third set was played as a tiebreaker as Newman managed to squeeze out the win.
"It was a battle for the swiftest. Playing in your second match of the day was tough, but I had to stick it out," said Baker Newman, who admitted that he had some problems with his left knee during the match.
"But it always feels good to win. It's always fun when you do win for sure."
Major Jr, a little irate at his performance, apologised to the BLTA and the fans for his behaviour after the match when he hit a game ball over the fence.
"I just wanted to win so bad, but after I got hurt, I wasn't the same after that," he said. "I played a pretty good first set, but I started cramping because of the two tough matches I had to play."
Philip Major Jr def. Spencer Newman 7-5, 1-6, 11-9
Despite jumping out to a quick 4-1 lead, Spencer Newman couldn't hold off the attack from Philip Major Jr, who rallied to force the tiebreaker and eventually took the first set.
As he did in the first, Spencer Newman opened an impressive 5-0 lead and he didn't let up as he equalised the score and force the tiebreaker to determine the outcome in the third set as Major Jr prevailed.
"He stepped it up and I didn't. He played great (in the second set)," Major Jr said. "I just had to regroup for the third set. So I feel great that I was able to win. You never know what to expect. He fought very well, but I'm just happy that I was able to win today."
Spencer Newman said they endured a see-saw battle from start to finish.
"It's a coin toss with these tiebreakers," he said. "I should have won it, but I let him get away from me in the first set and I got back in it in the second set. But he was just a few points better when it counted the most in the tiebreaker."
Baker Newman def. Philip Major Jr 5-7, 7-6 (3), 10-6
Newman admitted that Major Jr made him play for every point in the match.
"Everyone is a good player, so you just have to come out and respect their game and play to the best of your ability," Newman said. "Today, he was just the better player and he won."
Kevin Major Jr. def. Spencer Newman 6-3, 5-7, 10-8
When it counted the most, Major Jr held a 7-4 lead in the tiebreaker, but Newman battled it back as it came down to the final two points at 8-8.
"It's always a lot harder for me to play at home because I love to play before the Bahamian crowd so I normally go for a little more than I normally do and then I start missing and I get upset," he said.
"So it's really tough mentally to stay in the match. Somehow I was able to pull through."
Newman said he wasn't surprised because Major Jr continues to improve every time he plays him. "He got me today," Newman said. "Tennis is a game of inches. Down 8-4, I told myself that I could be in it. But it was a coin flip at 8-8. I got back, but I had an unforced error and he hit the back of the line to decide the game. That's tennis."