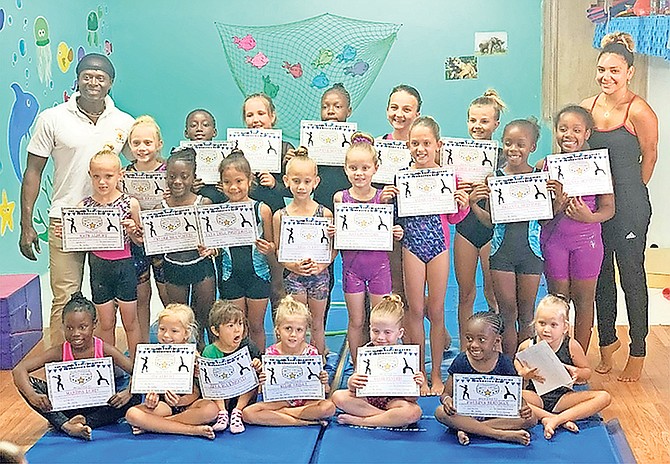 THE sport of gymnastics is experiencing new growth here in the Bahamas with the development of a fairly new gymnastics programme springing up on the island of Eleuthera.
Ashley Knowles, a resident of Spanish Wells, has recently started teaching gymnastics with a group of 20 plus eager and excited youngsters in that community.
Ms Knowles, who is originally from New Providence, noticed when she moved to Eleuthera four years ago that there really wasn't much for young children to do on the island.
She recalls growing up in Nassau and having so many opportunities to participate in extracurricular activities which she feels contributed to her own personal growth.
Ashley now feels very uplifted, being able to give the young children of Spanish Wells and Eleuthera the chance to be a part of the gymnastics programme she has started there on the island at her school, The Island Dance Academy.
Ms Knowles was very much surprised at how quickly the students progressed which created the need for her to pursue additional training. Seeking the assistance of Nassau Nastics' head coach Trevor Ramsey, Ms Knowles organised a two-day training camp at her small facility where she and her students were introduced to the fundamentals and basics of gymnastics development.
Coach Trevor Ramsey has been involved in the sport of gymnastics from the early 1990s which is when he first joined Nassau Nastics. He has travelled the United States, South America, Canada and Europe where he has participated in numerous training courses, seminars and countless gymnastics competitions accompanied by Bahamian gymnasts.
His first impression of the students on the island of Eleuthera was a very positive one. "The kids here in the Bahamas seem to be very naturally talented and full of energy," coach Ramsey said.
On day one of the training the focus was on the fundamentals of assisting the gymnasts with safely learning basic rolls, handstands, cartwheels and back bends. Some attention was also put on helping the girls to become stronger and training them to be more flexible.
On day two the girls all displayed their newly improved skills in a mini display viewed by excited parents who encouraged and cheered them on. It was a very positive evening ending with everyone receiving a certificate of participation and a small sweet treat for their courage and hard work.
Coach Knowles, being very excited, had this to say: "My job as a gymnastics coach to these eager and talented gymnasts has definitely been invaluable to their growth and development. Their overall enthusiasm at our first gymnastics display attested to this.
"Also having coach Ramsey here to help increase my knowledge in the sport has given me a tremendous amount of insight which I can now transfer to training my students."
This new programme is much needed on the island and coach Ramsey hopes to continue to assist the small programme on a regular basis as it continues to grow moving forward.