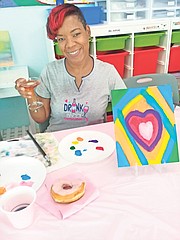 By ALESHA CADET
Tribune Features Reporter
acadet@tribunemedia.net
Spa La La for Girls kicked off this year's Mother's Day activities with a bang by hosting a Mother and Daughter Pajama Paint Party at the New Providence Community Centre.
Participants were encouraged to grab their cutest PJs and enjoy a day of girl's time that included face painting, canvas painting, a polish station, a pajama dance session, prizes and more.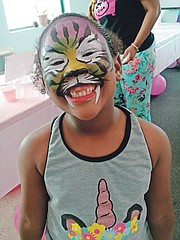 Spa La La for Girls was founded by LeTisha Paul in 2008 as a mobile spa party service for girls, providing pampering and fun beauty activities for birthdays and special events. Over the years, the organisation has evolved to provide fun events for the Brownie Troops and special entertainment sessions for beauty pageant contestants.
The group's event themes and services have expanded and the team is now providing additional options such as cupcake and canvas parties, pamper and paint parties, pillow paint parties, jewellery-making and cake sweet shop parties.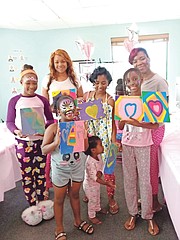 "The biggest inspiration behind events we host is knowing that most moms get just as excited as their daughters at spa parties. The recent event (gave) moms as well as their kids an opportunity to have fun girl time together; doing some of the things that moms enjoyed as girls at pajama parties. Their daughters are now experiencing these things such as wearing cute pajamas, getting pampered and taking fun selfies, all while being creative in the process," said Ms Paul.
She believes the recent event also provided the perfect bonding experience for not only mothers, but also grandmothers, aunts and sisters. And all participants got to take home the painting they created during the event; making it the perfect keepsake.
"The attendees painted a piece that centered around 'The Colour of Love', which is perfect as it promotes mommy-daughter love. The goal was simply to promote wholesome family fun and the making of memories," said Ms Paul.
Spa La La, she said, will be planning more events and workshops around holidays and specific themes.