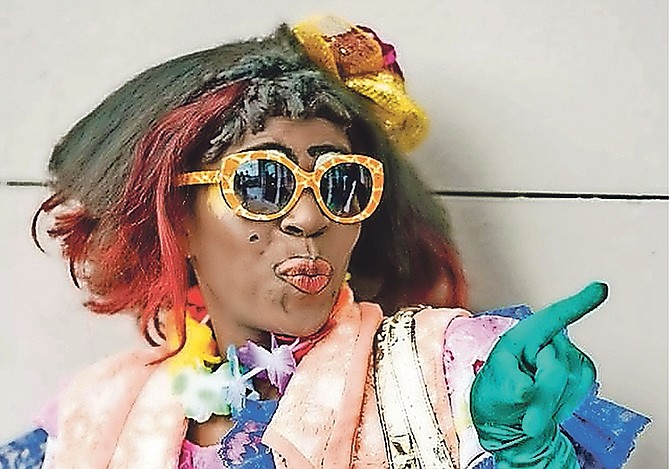 By JEFFARAH GIBSON
Tribune Features Writer
jgibson@tribunemedia.net
MOTHERS will be treated to lots of laughter and love, and some prizes as well, as the audacious Dynamite Daisy returns to the stage for a special production this weekend.
The Bahamas' leading comedienne, Lynn Terez Davis-Nixon, who has been playing the character for many years, is coming out of semi-retirement to present "Daisy – The Valley and the Shadow".
There will be two showings of the production from May 10-11 at the St John's College Auditorium, Micheal Eldon Drive. Show time is 8pm on both nights.
The play was co-written by Mrs Davis-Nixon and the production's director, Dr Trent E Davis. It will be a humorous display of Bahamian funeral culture. Special guest artist Monty Sweat will release his original Mother's Day song during the event and Daisy will be signing autographs.
Mrs Davis-Nixon has been hosting an annual Boxing Day event for the past two decades, but last year was the first time she added a Mother's Day production to her roster, and it was declared as a "phenomenal success."
This time around, Daisy returns to the stage with her family of 12 lead and supporting cast members.
"This show will be funny and persons will leave with life-changing hope for everyday life," she told Tribune Woman. "Laughter is medicine. Laughter is an indication that you have not lost hope and that you believe things can get better. With confidence in the Lord, that is the start of the change for better."
Mrs Davis-Nixon said the main goal for the event is to inspire and show all of the country's mothers appreciation for their tireless work.
There will also be special giveaways and prizes. And the mother who brings along the largest contingent to the shows will walk away with a brand new refrigerator.
"It is the spirit of love and community that makes us better as a resilient people. We are our brothers' keepers and we endeavour to be Christ-like. What we do to the least of these we do to Christ, so we are partnering with others to help some mother smile and laugh again from the inside out. When Mommy is happy, the whole house is filled with joy," she said.
Mrs Davis-Nixon has also arranged for special vendors to be present at her event. There will be a booth by Tasty Teas, Daisy's official Mother's Day beverages, and audience members can get free electrical and plumbing advice from Earnal Munroe Jr. HG Christie Limited will be on hand to answer all real estate concerns during the intermission. Butler's Funeral Home is also a major part of this production.
"Mothers will be blessed with free giveaways and everyone will have an opportunity to get free technical and real estate advice as well as physical and soul food for life on earth and for eternity," she said.