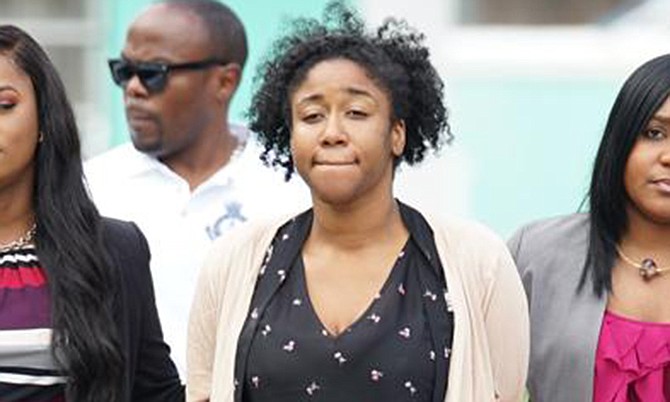 By NICO SCAVELLA
Tribune Staff Reporter
nscavella@tribunemedia.net
ALLEGED child abductor De-Edra Michelle Gibson has elected to be tried in the Supreme Court over allegations she abducted three little boys, one as young as three, from various places in New Providence between February and March.
Her selection came after a psychiatric report confirmed that the 29-year-old was in fact mentally fit to enter a plea to four counts of child abduction stemming from allegations she abducted three eight-year-olds and a three-year-old between February 16 and March 29.
Given her choice, the other option being trial in the Magistrate's Court, Gibson was remanded to the Bahamas Department of Correctional Services (BDCS) until June 24, at which time she will be served with a voluntary bill of indictment (VBI).
Gibson appeared not to have wanted her matter to be tried in the Supreme Court, and at the very least, seemed to be opposed to her family having a part in the decision making, as she could be overheard telling her attorney, Howard Thompson Jr, that "they don't have no say".
Nonetheless, after she told Magistrate Samuel McKinney of her selection, and he remanded her to the BDCS to await service of a VBI, she said in a disgusted voice: "I hope they happy."
Meanwhile, Mr Thompson indicated to The Tribune that he would be seeking to apply for bail in the Supreme Court for his client.
During her initial arraignment, Mr Thompson told Magistrate McKinney that his client has a history of mental health issues. In fact, he said just last October, Gibson spent some time in the psychiatric ward of the Brookdale University Hospital in New York.
At the time, Mr Thompson said he had also received legal instructions from Gibson that ranged from "incomprehensible" to "bizarre".