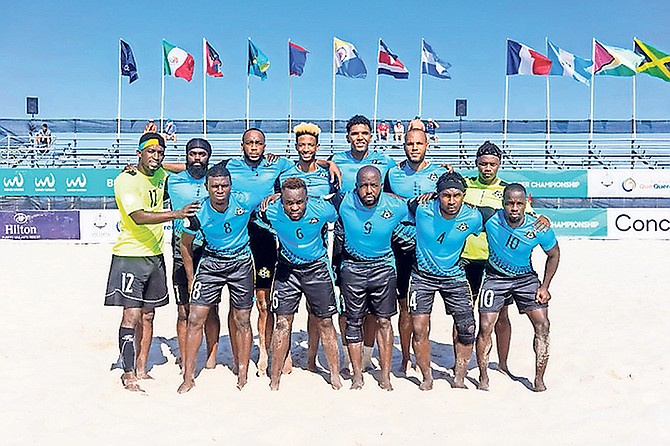 By RENALDO DORSETT
Tribune Sports Reporter
rdorsett@tribunemedia.net
Team Bahamas got off to an impressive start with an opening day win at the 2019 CONCACAF Beach Soccer Championships.
The team scored a 7-4 win over Antigua and Barbuda in their tournament debut yesterday in Puerto Vallarta, Mexico.
Jean Francois and Kyle Williams each scored two goals to lead Team Bahamas to three points in the standings.
Gary Joseph got the Bahamas on the scoreboard quickly with the opening goal within the first minute, but Antigua and Barbuda scored on an equaliser from Elvis Thomas shortly thereafter.
Timothy Munnings put the Bahamas ahead with his goal and the team and Francois scored another to give the team a 3-1 lead at the break.
Lesly St Fleur scored from the kickoff to take a 4-1 lead and Williams' bicycle kick made the score 5-1. Francois tacked on another goal before Antigua and Barbuda's Kevin Richards would finally score to stop the run.
Williams added his second goal almost immediately thereafter to regain the five-goal lead for the Bahamas (7-2).
The 16-team tournament field also includes Belize, Bonaire, El Salvador, Guadeloupe, Guatemala, Guyana, Mexico and the United States.
In other matches on day one, Trinidad and Tobago defeated Turks and Caicos 6-0 while Costa Rica defeated Jamaica 4-2, Panama defeated the US Virgin Islands 8-1 and the United States topped Bonaire 14-1.
The Bahamas is drawn into Group C, along with the United States, Antigua and Barbuda and Bonaire. They will face Bonaire on May 15, followed by a matchup with the United States on May 16.
Following round-robin play, the first and second place finishers of each group will advance to the quarter-finals. Quarter-finals winners will advance to the semi-finals. Semi-final winners will automatically qualify for the tournament's final, as well as the FIFA Beach Soccer World Cup Paraguay 2019, November 19-December 1.
Team Bahamas is made up of Gavin Christie, Gary Joseph, Lesly St Fleur, Michael Butler, Nesley Jean, Kyle Williams, Daron Beneby, Dwayne Forbes, Jean Francois, James Thompson, Timothy Munnings, Torin Ferguson and Nathan Wells.
Luis Escobar Passos Da Silva is the head coach, assisted by Wilson DaCosta, and Larry Minns as the team's manager.
Six teams have already qualified for the 2019 FIFA Beach Soccer World Cup - host Paraguay, along with Japan, Oman, the United Arab Emirates, Nigeria and Senegal.