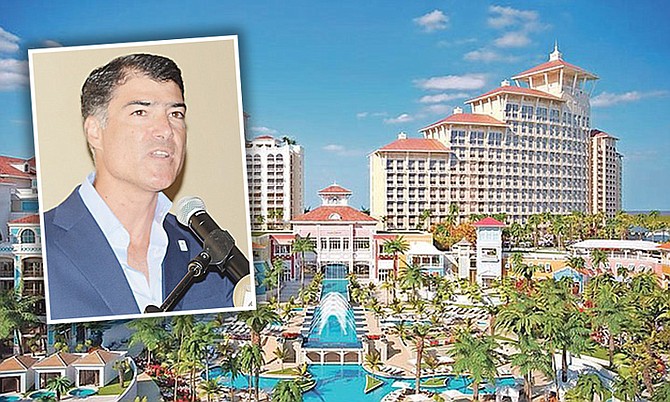 By NEIL HARTNELL
Tribune Business Editor
nhartnell@tribunemedia.net
Baha Mar's main contractor last night demanded a minimum $150m in damages from Sarkis Izmirlian over alleged "shareholder oppression" that wiped out its entire investment in the project.
China Construction America (CCA) and its affiliates, in their long-awaited defence and counter-claim to Mr Izmirlian's lawsuit, alleged that his decision to seek Chapter 11 bankruptcy protection for the $4.2bn project was a key factor that cost them their $150m preference share investment in the mega resort development.
As a result, the Chinese state-owned construction company claimed in papers filed with the New York State Supreme Court that it should be "compensated for the loss of benefits" associated with its investment in accordance with The Bahamas' Companies Act.
Mr Izmirlian and his BML Properties vehicle held 100 percent of Baha Mar's equity, and controlled four of five Baha Mar Board seats compared to CCA's one, leading the the Chinese contractor and its affiliates to allege that the resort's original developer exploited this to his advantage and its detriment.
"As the majority controlling shareholder of Baha Mar, and as the day-to-day manager of Baha Mar, BML Properties took actions - or caused Baha Mar to take actions - that were oppressive to the China State Construction Engineering Corporation (CSCEC) Bahamas or unfairly disregarded the interests of CSCEC Bahamas as a minority shareholder in Baha Mar," CCA alleged.
Among these actions, it cited Mr Izmirlian's decision to "covertly prepare for and file the Chapter 11 reorganisation petition in the Delaware bankruptcy court for the purposes of ensuring BML Properties and/or Mr Izmirlian retain control and domination over the project, rather than for the benefit of Baha Mar and its minority shareholder [CCA]".
The Chinese contractor also claimed that the $80m in financing that Mr Izmirlian provided through his separate vehicle, Granite Ventures, to cover Baha Mar's staffing and other operating costs during the Chapter 11 period, was designed "for the enrichment of Mr Izmirlian, and for the purposes of retaining control and domination" over the development.
CCA and its affiliates, claiming they had been excluded from design and financial information on Baha Mar's progress, added: "As a result of these actions, CSCEC Bahamas has been deprived of the full benefits of its ownership of preference shares in Baha Mar and is entitled to an order compensating it for the loss of such benefits pursuant to section 280 of The Bahamas' Companies Act.
"Those losses include but are not limited to deprivation of the annual dividend payments to which CSCEC Bahamas was entitled under the Investors Agreement and the loss of its entire $150m investment in Baha Mar."
As a result, CCA is counter-claiming against Mr Izmirlian for "no less than $150m" - and seeking "punitive damages" on top of that - in its response to the $2.25bn fraud and breach of contract lawsuit brought against it by Baha Mar's original developer.
Many observers are likely to wonder, though, how CCA and its affiliates can bring a "shareholder oppression" claim that is based on Bahamian law - namely section 280 of the Companies Act - before a New York court.
And CCA is likely to have been more than adequately compensated for the "wipe out" of its $150m Baha Mar investment in any event. Besides being reimbursed for the sums said to be owed to it by Baha Mar at the time of the Chapter 11 filing, it was also the recipient of a $600-$700m contract to complete the mega resort once Mr Izmirlian had been removed from the project.
CCA, meanwhile, returned to its previous tactics of blaming Mr Izmirlian and his management team for the project's eventual failure and collapse into Chapter 11 bankruptcy. It repeated previous allegations that construction was thrown off-course by the thousands of changes demanded by Baha Mar's original developer.
Mr Izmirlian has alleged that these alterations were necessary to rectify shoddy workmanship by CCA and its sub-contractors, but the Chinese company last night countered that if drawings were changed or it had to complete extra, more expensive work then its pricing and schedules had to be adjusted by Baha Mar.
Construction change directives (CCDs) could also be issued by Baha Mar to get CCA to perform extra work but, in both instances, the contractor alleged that the developer had to pay it more.
"On a project in which the developer is doing its job correctly, change orders and CCDs should be in narrow in scope because the design drawings and other design documents will not require significant variation," CCA alleged.
"On this project, however, BML Properties caused Baha Mar to issue over 1,000 CCDs because Baha Mar's design drawings were constantly changing. As a result, CCA Bahamas was forced to send 5,614 'requests for information' to Baha Mar between May 11, 2011, and April 20, 2015, requesting that Baha Mar provide additional detail on its design drawings or correct inaccurate or incomplete information contained in its drawings.
"The responses to these requests for information were frequently untimely, insufficient or incomplete (or ignored in some cases)". As a result of these and other factors, CCA alleged in its legal filings that Baha Mar's construction fell significantly behind schedule.
It alleged that it issued repeated warnings to Mr Izmirlian and his managers about the impact the CCDs were having, citing a July 2014 report in which it warned: "It is most likely that the substantial completion of this project will be delayed by a total of around four to five months, and will be further delayed if Baha Mar will not immediately release all the outstanding designs and if Baha Mar will not freeze yet all the designs of this project.
"The repeated warnings, however, were not heeded. BML Properties continued to cause Baha Mar to make design changes and issue CCDs, even as the deadline for completion neared. As a result, on or around August 1, 2014, Baha Mar publicly announced that the 'grand opening' of the resort would be delayed from December 2014 to 'late Spring 2015' or possibly later."