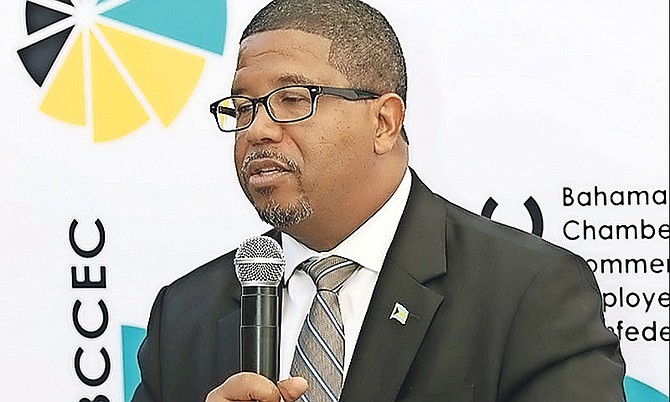 By KHRISNA RUSSELL
Deputy Chief Reporter
krussell@tribunemedia.net
THE suggestion that this country should "fling" open its doors to undocumented migrants is dangerous and reckless, Deputy Prime Minister K Peter Turnquest said yesterday, insisting limited resources among other things would not allow it.
The finance minister was responding to attorney and human rights advocate Fred Smith's recent controversial comments calling on the government to turn from detaining undocumented people and instead allowing them to work.
The QC made this appeal during the 172nd session of the Inter-American Commission on Human Rights in Kingston, Jamaica on Friday. The hearing focused on the treatment of migrants in the Bahamas.
"I saw a statement this morning by a constituent that said we have somewhere in the neighbourhood of 10 percent unemployment," Mr Turnquest told reporters outside Cabinet. "How do we absorb illegals into the work force? And if we pay them low wages there is another implication and consequence of that.
"The fact of the matter is that we cannot absorb any and everybody into this economy. We are a small nation. Our resources are limited. Any suggestion that we ought to just fling open the doors and any and everybody can come is inherently disadvantageous, dangerous and reckless to the Bahamian people.
"It amazes me quite frankly that somebody would make such a suggestion. It just isn't reasonable."
When he made the remarks on Friday, Mr Smith said detention should not apply to immigrants.
He said: "So the reality is, just as the government for hundreds of Cubans years ago bailed them out and allowed them to go into the community on condition that other members of the community would return them, many Haitian migrants or those waiting for documentation can live and be constructive and productive members of the society instead of it costing the government hundreds of millions of dollars, as you say, to keep them in an illegal detention centre.
"Let them out and let them work in the community."
He told those gathered that despite the Bahamas being a small country, it needed hundreds of thousands of more people to make it grow and produce.
However, he said geographically, the country was huge and there should not be a focus on the fact that the population here is small, adding that immigrants were not criminals.
Mr Smith said the mentality, visceral hatred and xenophobia that exists in the Bahamas had to be done away with.