By RASHAD ROLLE
Tribune Staff Reporter
rrolle@tribunemedia.net
EDUCATION Minister Jeffery Lloyd has decried a viral video depicting the sexual exploitation of a minor, saying the government must pursue punitive sanctions against people who spread such videos.
His statement in the House of Assembly yesterday came after three separate videos depicting minors in vulnerable situations went viral this week.
Mr Lloyd did not say which video he was referring to but he appeared to be alluding to film of a man begging a high school female student for sex after she was caught seemingly performing a sexual act with another man.
The video shows the girl pulling up her underwear behind a building as another man seemingly in his 20s stands next to her.
The man recording the video tries to blackmail the girl, threatening to post the video if she failed to fulfil his wishes.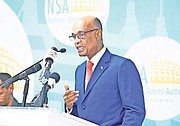 Yesterday, Mr Lloyd, pictured right, said police are investigating the matter. He said: "It is disturbing to me as the Education Minister in The Bahamas the insensitivity and the abject disrespect that is exercised in our circumstance here in the Bahamas with regard to minor children who have now become the subject and object of ridicule, disparagement and offence.
"There is the Electronics Communications and Transactions Act which speaks more specifically to commercial matters but it also has a provision, I think, in section 20 that speaks to the transmission of information by electronic means which could be considered to be defamatory. I am sure that our government is going to at some point apprehend the necessity of whatever means may be necessary to protect... from incalculable harm which as you know and I know can extend well into posterity in their lives."
"The circumstances which I presume now is known to this community and this assembly has exposed the identity of this individual with such a graphic representation that it is really impossible for her to hide and for the persons related and associated with her now to be mortally offended by this issue. I just wish to appeal to our Bahamian community, to our adults in that community, to please with the great facility of discretion exercise sense and sensitivity to our young people."
"If an adult wishes to expose themselves and parade themselves before the electronic world in a manner which visits ridicule and abuse upon them that's their business but children must enjoy the protection of the civil society in which those children are required to exist."
"I am disturbed as I become more aware, I am now advised and I wish to advise this House that the circumstances attracted the attention of the Royal Bahamas Police Force and again it is a deeply disturbing circumstance to her family and to everyone affiliated and associated, the entire school body. The entire school body is now upset, if not traumatised - especially in a school environment which has been unfortunately the subject of some public observation with regard to other unfortunate incidents of this type.
"I invite our government to consider punitive sanctions for persons who knowingly record via electronically and display or transmit to the wider world community matters, incidents, circumstances, acts which can bring an individual's life into endless and probably unimaginable disrepute."