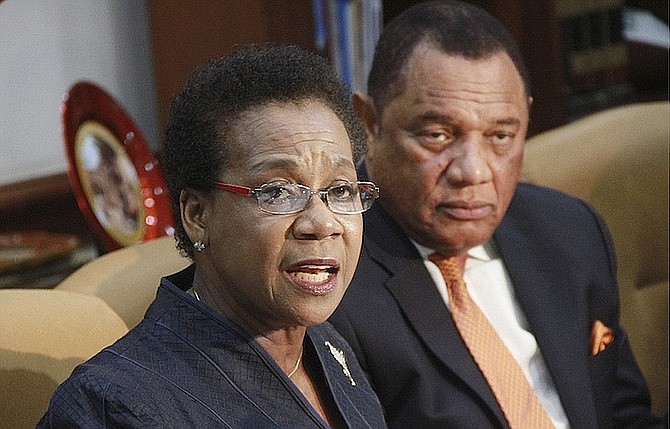 By Ava Turnquest
Tribune Chief Reporter
aturnquest@tribunemedia.net
PEOPLE waiting more than five years for an answer to their application for citizenship have a right to sue the government, according to retired Justice Rubie Nottage.
Mrs Nottage, former co-chair of the Constitutional Commission, explained how processing delays could contribute to statelessness during a panel discussion at the University of The Bahamas.
"(People waiting for deferred citizenship) they have married, had children, some of those children have had children, and now we have statelessness because the person who married first had no status yet. He's applied, he's entitled to it, but he has no documentation.
"So let's say that he then marries a young Haitian woman who has come here without documents. So two undocumented persons have a child in the Bahamas...because both parents are non-Bahamian that child is only entitled to citizenship at the age of 18."
She continued: "But it has no papers, and if that child then marries or has children, which we're into that second level of generation already, then you have statelessness confirmed in that third generation because there is no documentation."
The panel discussion on the Right to Nationality and Statelessness was staged by the Office of the United Nations High Commissioner for Refugees (UNHCR) at UB.
It comes on the heels of concerns raised by another international human rights body - the Inter-American Commission on Human Rights - over the lack of data on the number of stateless people living in the country due to the lack of documentation and the country's citizenship laws.
For its part, the government has maintained the number of stateless people is minimal and long sought to differentiate from the categorisation of children born to Haitian migrants in the country - who have to wait until 18 to apply for Bahamian citizenship but have access to Haitian citizenship at birth if registered.
At the IACHR hearing, Minister of State for Legal Affairs Elsworth Johnson argued that the largest number of persons affected by gendered provisions of the constitution are Bahamian men and women and their descendants, not migrants.
At Thursday's UB panel, United Nations expert Marion Bethel called on the government to fulfill its obligations to carry out mapping and provide documented evidence.
Among panelists was Maha Mamo, a 30-year-old formerly stateless woman who has become prominent global spokesperson for stateless people and the face of the UN Refugee Agency's campaign to end statelessness by 2024, called #IBelong.
Ms Mamo was born in 1988 to Syrian parents, who had an interfaith marriage that was not recognised in Syria so they fled to Lebanon where they had their children.
The children of a Christian father and a Muslim mother, Ms Mamo and her two siblings were stateless because their parents could not register their births in Syria and they could not access Lebanese citizenship. They would remain that way until they received refugee status from Brazil in 2016. Ms Mamo became a Brazilian citizen in 2018 ending a life lived, according to her, as a shadow.
"At three years old," she said, "I was a kid that didn't realise anything from this life. I had the same uniform, the same education, the teacher like everyone else.
She continued: "But it's from the smallest things that you do in your daily life, from buying a SIM card you need to present a document, to having a credit card, health insurance, a library card or any type of document that should have your name.
"Even to go to a party and enjoy your night with your friends we always had to worry if I would be accepted or not to enter to the club, because everywhere where they ask you for documents I cannot access."
Ms Mamo's brother Eddy died just one month after receiving refugee status in a violent armed robbery in Brazil.
"Life is cruel," she said, "life is unfair with all of us. Eddie died as a stateless person. He was lucky enough he got his refugee status because we managed to give him the death certificate."
Ms Mamo continued: "The dignity of human beings with stateless people doesn't exist. You get born, you don't have your birth certificate, you live your life, then you die without death certificate. You're just like a shadow, you come and you go. No one really knows about your existence."
During her panel remarks, Mrs Nottage said she hoped the UNHCR would broadcast Ms Mamo's story locally as her struggle was shared by many people living in the country.
As former co-chair of the Constitutional Commission, Mrs Nottage said it was very difficult to convince affected people to become spokespersons due to fear of being stigmatised; however, she felt it may have positively impacted the gender equality referendum campaign.
During Thursday's panel discussion, UNHCR Assistant Protection Officer Deneisha Moss-Balboni made clear a lack of documentation did not confirm statelessness but it was one of the indicators.
However, Mrs Nottage said the number of stateless people living in the country is not a "hidden figure", and highlighted two at risk groups that officials could focus on to capture a "real number".
Those two at-risk groups are people who acquire citizenship under Articles 6 and 7 of the constitution, she said.
Under Article 6, children born out of wedlock in the Bahamas to a Bahamian father and non-Bahamian mother who cannot confer nationality; and under Article 7, children born in the Bahamas to non-nationals who themselves, are either stateless or unable to confer nationality on children born abroad.
"So you can see the numbers start to multiply at a huge rate and statelessness is then not just a hidden number," Mrs Nottage said, "but a real number, the person sitting right next to you."
Mrs Nottage reserved her opinion on the government's interpretation that the constitution only provides the right to apply, not to be granted citizenship, for people born in the Bahamas.
She acknowledged the proposed Nationality Asylum and Immigration Bill 2019 as "hopeful" in filling the gaps due to gender inequality, and provisions for deferred citizenship in the constitution but was still "purely discretionary".