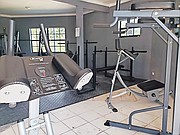 By CARA HUNT
Tribune Features Writer
cbrennen@tribunemedia.net
Exuma residents now have the opportunity to get fit the right way thanks to a new gym which recently opened on the island.
"There was a definite need for a facility like this on the island," JD Darling, owner of the Fit for Life gym, told Tribune Health. "A lot of people on the island need to get in shape and were looking for somewhere that that they could go."
"On Exuma there wasn't really a gym that could they use although there were a lot of people offering things like boot camps and they are also promoting fad diets like the keto diet, but not every diet is for everybody and people still need to work out."
Mr Darling said opening Fit for Life also represents a way to give back to the community.
"The response has been quite good," he said. "In the first week or so since we opened we had about 78 people sign up."
In addition to traditional gym equipment, Fit for Life offers classes such as yoga, aerobics and Tabata, a high-intensity interval training that consists of eight rounds of ultra-high-intensity exercises in a specific 20-seconds-on, 10-seconds-off intervals.
In the future, they hope to add to the facility with a whole sports complex including a pool, a basketball court and a soccer field.
"We want to give everyone a fair chance to get their bodies where they want it, or at least a million steps closer to where they want it to be," said Mr Darling.