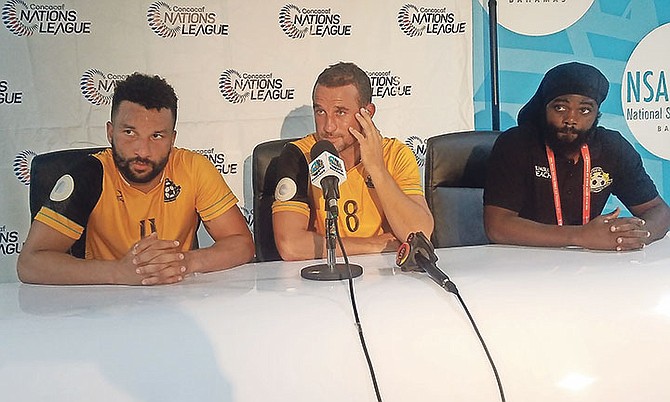 Despite the fact that some of the players in college won't be available, Nesly Jean likes the makeup of Team Bahamas that will play host to the British Virgin Islands in the next leg of the Nations League.
That game will be played at 7pm on Thursday, November 14 at the Thomas A Robinson National Stadium as the Bahamas has already solidified its position on top of Group C.
Named to the team are Dwayne Whylly, Ambry Moss, Jonathan Miller, Troy Pinder, Evans Julmis, Isiah Collie, Terry Delancy, Happy Hall, Marcel Joseph, Lesly St Fleur, Cameron Hepple, Quinton Carey, Jean Francois, Nicolas Lopez, Evelt Julmis, Alex Thompson, Logan Russell, Dylan Lightbourn and Ian Lowe.
Jean, now retired as one of the country's premier national team players, is back as the head coach and Larry Minns will be the team manager. Avery Kemp is the keeper's coach and Eugena Patton will serve as the physiotherapist.
"I feel great about the selection that we have put together. The guys have been training long," Jean said. "We have some of the guys who are playing college, but we feel confident in the team that we have selected and focused on what we have to do."
Looking at the makeup of Team Bahamas, Jean said they are well rounded and once they stick to the game plan by the coaches, he's confident that they can continue their winning streak in the Nations League.
As the new coach for the national team, Jean said it' has been good so far.
"It could be challenging, but it's something that I'm learning as a coach," he said. "I'm trying to get more of the younger guys to come in and understand what I am trying to do as a coach."
Having made his contribution as one of the prolific national team players, Jean said he's just delighted to know that his playing era is over and now he can concentrate on his new role as a coach.
"You have to know when your time is up and you want to give the younger guys a chance to play," he said. "I think I've had my time. There are a lot of guys out there who can fill my shoes, so I'm happy with the progress."
Since the age of 15, Jean has been a member of the Bahamas national team and he has travelled the world playing the sport he loves.
But he said his new role as a coach is something that he's focused on right now.
The goal, he said, is to see that the Bahamas boots in enough goals at the back of the net to win as many games as they can in their bid to become a formidable team on the international stage.