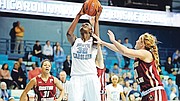 By RENALDO DORSETT
Tribune Sports Reporter
rdorsett@tribunemedia.net
ANOTHER event is set to be added to the list of NCAA Division I basketball tournaments hosted in the Bahamas during the Thanksgiving holiday weekend.
In addition to hosting five teams over the course of the three-day event November 20-30, the Bahamas Hoopfest intends to celebrate one of the most iconic names in Bahamian basketball - Waltiea Rolle.
Rolle, the first Bahamian drafted into the WNBA, posted her response to the honour on social media.
"I'm speechless. It would be an honour and a privilege to be a part of this event that represents and puts forth the development of women's basketball in this beautiful country for the first time ever.
"To be the first to be honoured is a privilege as a pioneer for women's basketball in this country. Me along with many others, Jonquel Jones, Lashann Higgs, Leashja Grant to name a few that I have been acquainted thus far, we have all made an impact in this country as female basketball players.
"Even coach Yolett McPhee-McCuin as the first female basketball coach from the Bahamas to ever coach at a collegiate D I level. It is insane the amount of impact females have placed on the game of basketball from this country and honestly it's about time it's being recognised because we have so much potential here in this country," Rolle posted on Facebook.
"It brings such joy to my heart that we are possibly opening more doors for female basketball players here. It shouldn't stop at me or 'JJ', Lashann or 'Lee Lee' because when we can't dribble a ball anymore or blow a whistle, our country's legacy should continue.
"This opportunity to allow if not as many as we can to witness something that can be their future first hand is truly amazing and I am a huge supporter of this." On Thanksgiving night, November 28, we will have a Junkanoo Thanksgiving celebration for the teams at the Baha Mar Resort. This event will take place from 5-7pm and will be open to the public.
Rolle was a third-round pick (36th overall) by the Minnesota Lynx in the 2013 WNBA Draft and appeared in all three pre-season games with the team, averaging 7.0 points, 4.3 rebounds and 1.0 steals per game.
In six games with the Storm in 2014, Rolle averaged 3.2 points and 2.8 rebounds per game.
Late in the season, Seattle re-signed Rolle for what was expected to be her second season with the franchise. She signed a series of seven-day contracts late in August 2014. They signed Rolle for the remainder of the 2014 season after she completed three 10-day contracts with the club.
The WNBA journey for Rolle ended with the Seattle Storm.
The 6'6" centre and University of North Carolina product last played with Xianjiang Magic Deer of the Chinese Women's Basketball Association. She made Bahamian basketball history by becoming the first Bahamian to play in the WNBA when she appeared in the Storm's 80-74 loss to the Tulsa Shock on July 29, 2014.
She signed her first seven-day contract with the Storm on July 21, dressing for all three of Seattle's games from July 22-26, but did not receive playing time during the three games in that time span.
During the second contract, she received spot duty in three consecutive contests when she scored two points in each outing. She ended the season with five rebounds in a 78-65 loss to the Phoenix Mercury.
After the draft, Rolle then elected to forego the entire 2013 WNBA season in favour of completing her degree in sports administration and exercise sports science at the University of North Carolina, and playing overseas.
For the Lynx, her preseason highlight was when she led the team in scoring with 17 points and five rebounds in their 82-66 triumph over the Australian national team in Minneapolis on May 5.
After completing training camp and the preseason with Minnesota, Rolle was waived last May just prior to the tip-off of the 2014 WNBA season.
A 2013 graduate of North Carolina, Rolle owns two of the top 10 best shot-blocking seasons in school history. Her 89 blocks during the 2013 campaign stand are the sixth best of all-time and her 82 blocks in the 2011 season eighth in North Carolina history.
Bahamas Hoopfest is hosted by the Springdale-based non-profit, International Youth Education & Sports (iYES) Foundation. Five NCAA Division-I women's basketball teams, which include Arkansas, Ball State (Ind.), Fordham (N.Y.), Lehigh (Pa.) and Wisconsin-Madison, will participate in the event.
The event tips-off with a Thanksgiving Day matchup between Lehigh and Ball State on November 28. The slate continues on day two with an early bout seeing Arkansas face Fordham followed by Ball State taking on Wisconsin.
On Saturday, Fordham returns to take on Lehigh in the final day's opening action before the event concludes with a showdown between "Power 5" foes Wisconsin and Arkansas.
"This is the first time multiple collegiate women's basketball teams of this magnitude will be competing in the Bahamas' capital city of Nassau. So, we are very excited about seeing our vision of this event come to fruition," said iYES and Bahamas Hoopfest co-founder Dr Simeon Hinsey. "This event not only gives the teams an opportunity to compete against some tough competition, but it also gives them a chance to learn about a new culture and showcase their talents to young girls from The Bahamas who may one day want to follow in their footsteps."
According to its mission statement, the iYES Foundation's mission is to enhance cultural exchange between youth in the United States, The Bahamas, and other Caribbean nations in order to develop communities through education, recreation and sports while preparing youth to pursue post-secondary education.