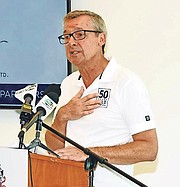 Royal Caribbean International has become the title sponsor for the Music Makers Junkanoo group with a donation of $100,000 recently presented to the group.
Royal Caribbean President and CEO Michael Bayley delivered the news during the opening of the Berry Islands Community Centre in Bullock's Harbour, an event that drew Prime Minister Dr Hubert Minnis and his wife Patricia, senior officials, local residents, Royal Caribbean executives, all of RN Gomez All-Age School and two Junkanoo groups from Nassau.
"In one of my meetings with the prime minister," Mr Bayley said, "he said, 'Why don't you take an interest in Junkanoo, our unique cultural expression?' And so when the prime minister of a country suggests that you take an interest in something, it's pretty easy to assume that we would take an interest."
Mr Bayley described the process, learning about different groups, meeting them and watching performances.
"I was very impressed by Music Makers' history, and moved by the financial struggles they have endured," he said later. "I was also impressed by the Original Fox Hill Congos and the important roles both play in their communities."
For Music Makers two-time chairman Gary Russell, who plays cowbells, saw and drums and has been wheelchair-bound since a horrific accident in Abaco left him paralysed from the waist down more than 30 years ago, news of the sponsorship brought tears to his eyes. When he heard the words and saw the mock cheque for $100,000, he turned his wheelchair into a dance partner, bouncing it up and down and doing wheelies as he tried to hide tears.
"I can't believe it, I can't believe it," he repeated. Later, calmed down, but still happily shaken, he said, "The Music Makers Junkanoo Group and Community Organisation is thrilled that Royal Caribbean International has agreed to sponsor us. The financial backing from this wonderful corporate entity will be the adhesive for stabilisation and growth in our group. It is very exciting for our members to have this sponsorship and help guarantee the future of the Music Makers. We will now have the resources to compete effectively. Additionally, it signified the safe future of Junkanoo in The Bahamas. Thank you Royal Caribbean International."
While Royal Caribbean's support of the Music Makers constituted a sponsorship, the award-winning cruise line also provided a grant to another Junkanoo group -- $20,000 to the B-group, Original Fox Hill Congos.
Mr Bayley advised both with a smile, "We want to back winners now, just remember, we want winners. At Royal Caribbean, we have very high standards and high expectations."