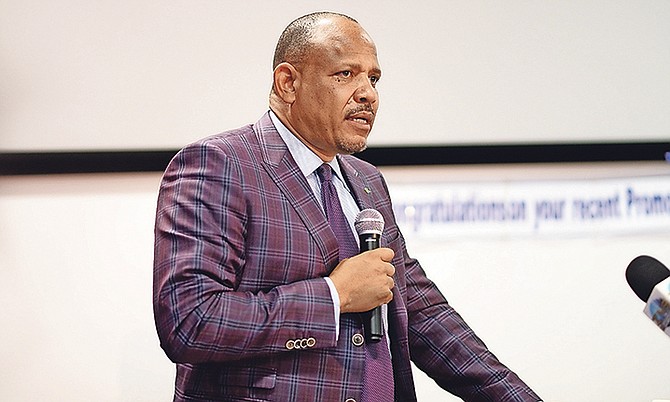 By RIEL MAJOR
Tribune Staff Reporter
rmajor@tribunemedia.net
TWENTY-FIVE nurses received their job appointment letters from the Ministry of Health after waiting for more than a year.
Speaking to reporters at a press conference on Wednesday, Health Minister Dr Duane Sands said it represented the end of an unfortunate era where the process of completion of training until appointment has taken far too long.
He said: "I believe that particularly as it relates to nurses and I've said this a number of times that collectively now the Ministry of Health, the Ministry of the Public Service, the Ministry of National Security and the Ministry of Education has to find a way to compress this process.
"We are committed to it and it's going to happen and certainly this group should be the last group that would have to suffer the indignity of having that very prolonged wait... it is a privilege and pleasure to welcome you to the Ministry of Health. Certainly, we recognise the sacrifice that you have been making ever since you've completed your training."
Dr Sands added: "We realise that you have gone above and beyond and your efforts have not been unrecognised and…I simply want to say that it is a privilege and a pleasure to welcome you officially to the Ministry of Health and to be able to confirm you as a part of the civil service."
The minister said health officials would like to compress this process from a year to 60 days.
He said: "There is a level of diligence that is required in order to verify credentials and to make sure everything is in order. But to have persons working full time and to be expected to smile and work hard when inside they are suffering? (Being) concerned about not being able to pay bills, not being able to provide food for their children so on and so forth is really a problem.
"It is certainly something that has been really painful for me to see and I'll tell you if I see another nurse in my office crying, it has been very sad that the system hasn't been able to be responsive to needs. 'God grant me the serenity to accept the things that I cannot change and the courage to change the things I can.'
"This is one of them that we can change. As trained clinical nurses or registered nurses await their official appointment, they continued to get a stipend. That stipend has occasionally not shown up when it should have. It might have been late and so on and so forth because of the way they would have entered the system."
Dr Sands said before their appointments to the civil service the nurses were not entitled to national insurance benefits.
"These are some very serious issues that have to be resolved and so these are recognised but they are crosscutting and require a progressive view of how we engage and appoint professionals moving forward," he said.
"The difference between their final salary and their stipend is not insignificant. Hopefully all of that money is not hypothecated or spent because they are entitled to a significant amount of back pay."
Dr Sands could not give a price tag on the back pay.