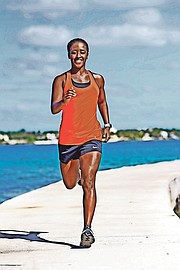 By ALESHA CADET
Tribune Features Reporter
acadet@tribunemedia.net
LIKE many others in the immediate aftermath of Hurricane Dorian, fitness instructor Regina Smith researched organisations she could donate to in order to do her part in the recovery effort.
But even after she had made her donations, she felt there had to be more she could do in the face of a disaster of this magnitude. Addressing the level of destruction caused by the storm, she knew, would require much long-term giving and assistance.
The personal trainer and owner of Energy Fitness said she would go out on her runs and would think to herself, "How can I help?" "How can I do more?"
"I knew that at the time, as much as I would have wanted to, I didn't have the skills to be at ground zero. I said to myself, 'What am I good at? How can I use that to help?' I'm good at running. I love running. I'm good at organising people to come together to do things...to do things for a good cause.
"Then it came to me that hundreds of people sign up and pay to race in the Bahamas and all over the world. People love to walk, run and cycle and they pay to do it. I'm sure there are other active individuals that would love to contribute to long-term assistance to persons displaced by the hurricane. This is a great way to get active and give back," she said.
So Regina came up with the idea for a unique type of race. She used her contacts to organise a team of fellow runners to stage the Hurricane Dorian Relief Fun Run/Walk, set to take place this Saturday, October 26, beginning 6am on Arawak Cay.
Regina added that she is sure there are also plenty of people like herself who have a heart for animals and she recalled an experience of seeing international races where dogs are allowed to participate. So for those who may want their pets to participate, they can bring them for a short and sweet walk.
The family and pet-family event is set to have 100 percent of the proceeds donated to charity: 90 percent to Hands For Hunger to assist them with restocking their hurricane disaster relief pantry, and 10 percent to the Bahamas Humane Society to assist with the sheltering and caring of misplaced animals during Hurricane Dorian.
"There is a walker's route and a runner's route. The walker's route will start at Arawak Cay and turn around at Go Slow Bed and back to Arawak Cay. The runner's route will start at Arawak Cay and head to Goodman's Bay and turn around. We are inviting cyclists to participate as well. We are also asking participants to donate gently used tennis shoes for kids and adults, non-perishable items and also cat and dog food," said Regina.
She emphasised that a disaster of this magnitude will take years to recover from. And every day more hands are needed, more food is needed, more builders, more law enforcement – just more all around.
"My team and I want to be a part of that long-term process of contributing. This is the first of many steps. Maybe persons wanted to donate at the time but couldn't do so, but now they can. This is a perfect opportunity to give back and to get in some exercise. I am looking forward to seeing my fellow Bahamians come together, walk together, run together, cycle together in unity. By registering, donating and showing up they are making a statement of choosing to care for the needs of others. Showing up in unity is making a difference, one person at a time; one mile at a time," said Regina.
How can people sign up? Regina encouraged readers to stop by and register at Energy Fitness Bahamas located at the Elite Security Building on Solider Road, suites number one and two.
She offered three tips for participating in a fun/run walk: "Register early so you don't have to wait in line; get a friend to sign up with you. That way you will be accountable to someone and it's also nice to have support if this is your first fun run/walk. And wear comfortable shoes; they don't have to be fancy, they just have to support your feet and ankles and keep you comfy. Have fun, network and enjoy the beautiful scenery that West Bay Street has to offer at sunrise."